Blockchain is a rapidly evolving space, and many trends in Web3 and metaverse will be there in 2023. Due to its decentralization, the blockchain has become a means of owning digital assets like game items, money, and more. In recent years, the metaverse is becoming mainstream as well. Businesses that embrace social media marketing will have to go one notch higher to integrate new technological trends such as — Metaverse.
The metaverse function's in real-time, and there isn't any pause and resume option. Neal Stephenson, the sci-fi writer who coined the term "Metaverse" calls it a digital world parallel to the real world, which is indeed true. As per Grayscale, the metaverse has a 1 trillion dollar market value and has endless opportunities.
People can create digital content, buy assets, earn, spend, invest and own it. The metaverse changes how we interact and communicate online using spatial locations and avatars. Individuals can have a unique digital persona and a virtual space to live. In this blog, we will grasp more about some of the most exciting metaverse trends to look out for in 2023.
Why Should Businesses Become Part of Metaverse?
Metaverse is a 3-D virtual world. It integrates virtual reality, augmented reality, gaming, and social media, where users can interact. This ecosystem operates in real time and is always active. The metaverse defeats the limitations of geographical boundaries.
AR and VR, AI, blockchain and 3D reconstruction, and IoT power metaverse. Businesses can use Metaverse for offering a virtual tour of the products and the facilities. To make the conversation with consumers more interactive and connect with a young audience. Further, it is a distinguished way to introduce virtual goods such as SaaS products.
With the integration of the metaverse, the payment process will become more streamlined. Companies can create a 3D digital twin of their workspace. Thus, collaborating for work in a different time zone becomes easier. Furthermore, the training and upskilling of the staff can be done creatively. Overall, an organization can target new revenue streams. In the future, there will be greater integration with the physical world. The companies that go for Metaverse adoption can create virtual influencers to establish the brands' identity. Here are the 7 Metaverse trends to look out for in 2023:
7 Metaverse trends in 2023:
Marketing and Brand Engagement 
More and more companies will join the bandwagon for marketing and engagement on the metaverse. As it will be easier to collect insights about the users. With the collected information, it will be helpful to develop strategies and campaigns. Engaging with customers virtually will also enhance the popularity of virtual stores. Through Direct-to-Avatar (D2A), companies, individuals, and brands can promote and sell their products to digital characters.
Companies can either join the existing platforms such as Decentraland, VR Chat, Meta Horizons, and many others. Or the businesses can build their own platforms for marketing and brand engagement on Metaverse. One of the biggest international finance companies, HSBC has a Web3 and metaverse platform to have discussions with their potential investors.
Metaverse Corporate World
There will be a replica or digital twin of real-world offices and more remote work opportunities will be possible. In the corporate metaverse, an opinion leader can present themselves and users can attend the event in real time. In 2022, Samsung used Decentraland for the launch of new Galaxy smartphones. Even though, the occasion had technical issues it was still a majestic event for metaverse enthusiasts.
The digital twin or the exact replica of the physical world office on Metaverse can be helpful for testing prototypes, and virtual simulation of the new products. One of the finest examples is BMWs augmented reality labs which bring a new way of vehicle development and prototype testing. Client onboarding and meetings can be done in the Metaverse. Therefore, it will be a collaborative environment on the Metaverse.
Extended reality
AR and VR are one of the technologies that strengthen Metaverse. Now, companies are planning to integrate VR, AR, and MR. Mixed reality/Hybrid reality is one which combines the virtual and physical worlds. There will also be an upsurge in virtual and augmented reality gaming in 2023. Increasingly, tech giants are advancing with consumer-grade headsets. The games on VR are more immersive and fun to play. Gaming on the blockchain will be very lucrative in the upcoming years as they work on the play-to-earn (P2E) model.
In 2023, more of a hybrid reality to look for on Metaverse. There is also a novel technological trend called VR therapy. VR therapy can effectively treat mental health conditions by allowing patients to confront their triggers and fears in a controlled environment. Thus, the concept of extended reality and metaverse will be used in gaming, fashion, healthcare, and much more.
Education with Metaverse
The usage of metaverse in education will be more in 2023. Therefore, with the metaverse, the accessibility of education will increase. With this new way to teach and learn, the virtual education and training of students will make learning more interactive. Educational institutions can use interactive classes for building muscle memory. Teaching online increased during the pandemic and the metaverse will revolutionize the learning experience.
Metaverse can be used in education in 2023 for virtual tours and activities, interdisciplinary learning, and 3D classrooms. Overall, simulating real-life situations in class will promote life-like understanding. Gamification of the subjects will be done to improve student participation. One such company that uses metaverse in tutoring is Stemuli.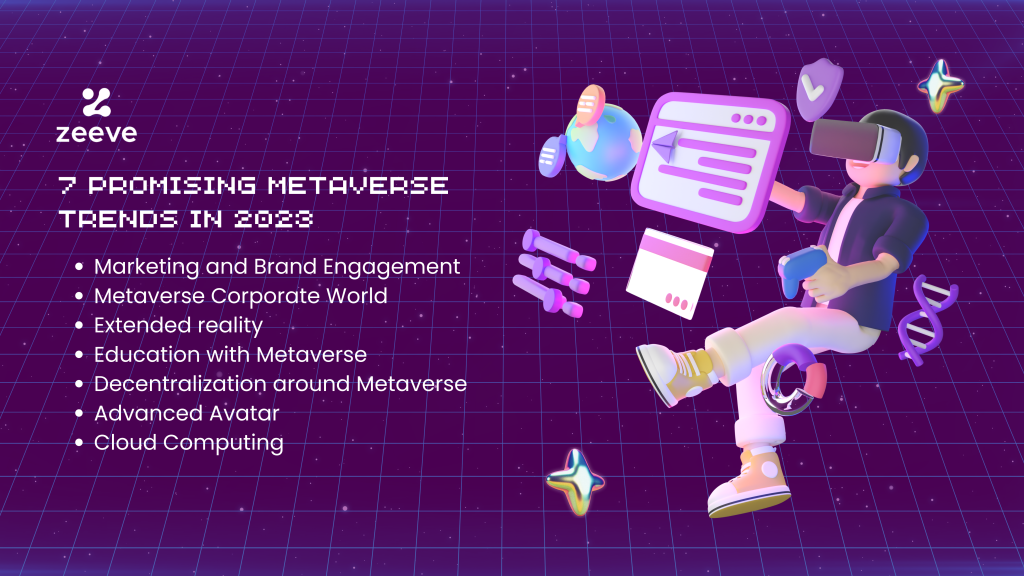 Decentralization around Metaverse
Distributed ledgers and blockchain technology will lead to a new internet that is independent of global corporations, which will no longer have the power to censor opinions they disagree with or to take people offline completely if they don't agree with them. Till now the decentralization isn't much as there are platforms that manage the Metaverse. This will happen when the problem of large-scale complex computing will be solved in the upcoming years. With the decentralization of Metaverse, there will be more self-sovereign identities. In recent years, many tech companies have acknowledged the issues of control and privacy and have begun developing innovative solutions to provide users with a decentralized level of control and protection.
Avatar
Avatar is an alter personality that a person could create on Metaverse. They can keep it anonymous or make it public. The Metaverse in 2023 will have to give more time to understand a person's avatar for brand communication. In the future, digital avatars will become more advanced. We will witness advanced avatars that can be dropped in different virtual worlds and environments. Zepeto and Ready Player Me are using photorealistic technologies to create such avatars.
Avatars can use the NFT utilities in the Metaverse. The companies such as Nike are going "phygital", which means that a buyer will have a digital receipt for the accessories they bought. They can use those accessories in the Metaverse as well.
Cloud Computing
To remodel Metaverse's technology, a vast infrastructure is needed, including more processing power, 3D images, VR technology, and Internet connectivity. As businesses migrate to the virtual world, a large number of data, information, and files are being shifted to the cloud to fuel the Metaverse's true potential. In the future, public clouds if invests in metaverse hosting will be able to provide the metaverse-as-a-service. We will witness the emergence of cloud solutions specializing in metaverse hosting in 2023.
Closing Thoughts
In the future, with better interoperability among the platforms, we will witness Metaverse and Metaverses. Organizations that want to distinguish themselves will create immersive experiences in the Metaverse. More use cases will show in the upcoming years.
For businesses and individuals, It's time to test the waters for adopting metaverse. The users who visit will have to feel it is real. More and more trustworthy companies are joining the Metaverse. Tech companies need to make the interface easy to understand so that more and more people join the community. It is likely that the metaverse trends of 2023 will see more and more developments. To support the projects at the ground level, Zeeve will be your ultimate partner.
Partner With Zeeve
Want to stay at the top of your business? In that case, it will be favorable to use the latest technology and one of them is Metaverse. Metaverse presents enormous attributes and benefits and has the potential to transform enterprise operations. Are you still wondering how you will deploy an efficient metaverse & Web 3.0 enterprise model? We at Zeeve are here to assist your organization.
Zeeve is the go-to platform for leveraging blockchain solutions to design NFTs for the metaverse. Our experienced and expert team can help companies reach a broader audience and establish a global presence. With our blazingly fast APIs and RPC nodes, get bespoke NFT marketplace development that facilitates swift, easy, fun, and seamless transactions of NFTs.
Zeeve is the Web 3.0 and Blockchain Infrastructure Management platform trusted by thousands of Blockchain Startups, Enterprises, and Web 3.0 Developers. To know more about Zeeve, you can follow us on Twitter or Telegram. Request a free consultation if you would like more information.