We've always loved video games since we were kids. We had to pay to play at times. Your successes as a gamer were limited to that game and were only known to you and your co-players. Outside of the game, there was little you could do with them. However, in the current situation, gamers can have the choice of engaging in a game for money. The gaming segment saw many trends – right from board games to multiplayer online battlefield games, the list of transformations that the dynamic industry has been undergoing is simply growing. However, the blockchain technologies are being used in the next generation of video games to reward players with cryptocurrency.
In some parts of the world, these digital games have begun to shape players in unique ways and are introducing players to a brand-new economic future.
In old versions of online games, there was no compensation if the developers decided to shut down the game or remove particular features that affect the in-game stuff you own. You'd just lose access to all of the goods you'd accumulated over a long period. That is exactly what the play-to-earn (P2E) gaming paradigm has the potential to change forever.
Cryptocurrencies, non-fungible tokens (NFTs), and the blockchain technology that underpins them have exploded in popularity in the last year or two. The gaming business, which is at the forefront of technical progress, has also adopted several new technologies. As a result, the P2E model was born.
Some assert, for the reason that play-to-earn games let users acquire rewards in a sport they previously would have undertaken for free, that gaming has been disrupted by the coming of commerce.
What are P2E games?
P2E, or "play-to-earn," is a trending topic in the crypto industry right now. Play-to-earn, as the name implies, is a segment of the gaming business in which gamers earn money by playing the game. While a lot of us love being engaged in playing games such as Call of Duty or League of Legends for entertainment, these games are a different level altogether and offer an amazing experience.
When the game and crypto worlds collide, you know something major is about to happen. Can you imagine spending hours upon hours playing your favorite game and earning money from it? This is what P2E is attempting to do. The rewards for playing can be in the form of tokens or NFTs, which you may use within this game and/or sell them off to other players.
Virtual economy-backed video games permit players to receive real-life rewards for in-game activities. As game enthusiasts have been making money for a while now through tactics such as faux-gold farming and semi-legal markets for in-game items, the emergence and integration of blockchain technology and NFTs has literally transformed the game.
Consider two types of users: an investor who owns an NFT that represents a game's main character, and a player who uses that character to play.
Cryptographic tokens, which would be called NFTs, or a nonfungible token, are cryptographically unique identifiers that can be used to prove ownership of things such as images, music, or in-game items. In blockchain games, they are used to allow players to access ownership of virtual clothing, in-game plots of land, and other items.
How P2E games are different from regular games
NFTs do differ substantially from conventionally created video games because NFTs incorporate in-game items that are held on independently operated data networks. In addition, NFTs give you ownership of the items you acquire. Unlike selected goods in video games, you're able to sell NFTs bought in other video game platforms without limitation.
That means in-game NFTs can be sold for fiat on any NFT marketplace, since they have scarcity. And the NFTs are also tradable in the marketplaces by their owners, which means that their real cash values can potentially be realized.
There's no need for a regular game to be played other than sheer enjoyment. The relationship is one direction, with you paying for the game, and if you don't play esports professionally, or you are a streamer with a popular following, it becomes nearly impossible to get paid while gaming. Meanwhile, with blockchain gaming, it's possible to earn money while playing. At any time, players can withdraw these assets from the realm of fixed assets and sell them for whatever is paid in cryptocurrency or hard currency.
In old-fashioned games, these assets have only value within the game being constructed, but in play-to-earn games, they become valuable in the real world.
Moreover, in contrast to traditional games, these games are decentralized. The developer does not have control over everything in its center.
In interactive P2E games that contain profit angle, in-game assets are to varying degrees distributed among the players. As part of their participation in the in-game economy, players are able to profit from other players and the developer through play. There is substantial consumer demand for interactive games in which competition, entertainment, and the opportunity to make money is present. Blockchain technology permits offline players who can't easily interact to participate economically through non-traditional ways.
What are popular P2E games?
The play-to-earn scene is dominated by four major players. Decentraland (MANA), The Sandbox (SAND), Axie Infinity (AXS), and GALA are leagues ahead of the competition, with market capitalization multiples of their nearest opponent.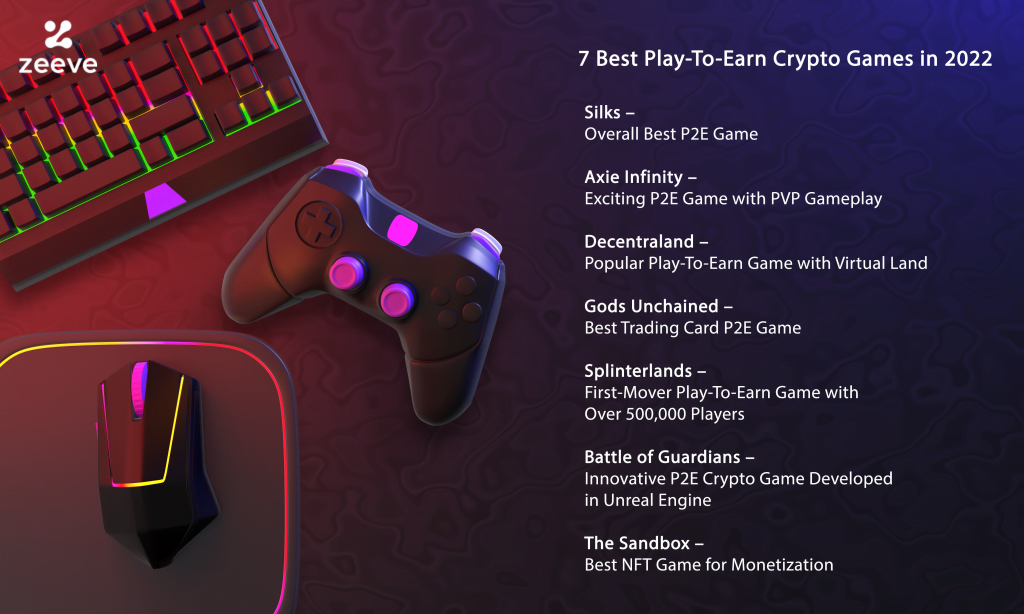 Decentraland (MANA) – The Decentraland (MANA) is just not a game – it's a metaverse. A parallel universe run on the Ethereum blockchain, in which users can design new content or applications, experience it, and sell it, permits users to purchase plots of land. Then, utilizing tools and authorizations, users can moderate the plot in a way that makes it more attractive; they can bends' build on top of it, and may also monetize it.
This means that earning money in Decentraland's virtual environment is quite similar to earning money in the real world (in real life). You can either work for a firm and get paid, work as a freelancer for other clients (players), or make art and sell it for a profit.
· Within the Decentraland virtual world, players can develop and create play-to-earn mini-games.
· These games can earn you points that can be exchanged for NFTs or wearables.
· Profits can be made from the sale of the assets
· However, as with most play-to-earn games, you'll have to put in a lot of time grinding to make a decent amount of money.
The Sandbox (SAND) – The Sandbox is a decentralized NFT game metaverse powered by Ethereum that allows non-techies to design, sell, utilize, and monetize their virtual reality NFTs. The game is set in a futuristic world where players can explore, fight monsters and mine for resources. The Sandbox's design makes it easy to learn but difficult enough that even experts will have their hands full with all its challenges! They can also buy and sell digital plots in the game for SAND tokens, the game's currency.
Blockchain-based virtual worlds combine the functionality of DAOs and NFTs to simplify the creation of a community with a vast array of video games. Its blockchain-based world lets individuals interact by buying and selling various digital products on the blockchain.
Axie Infinity – Possibly the most well-known P2E game, Axie Infinity is built on the Ethereum blockchain, and your goal is to battle your way to the Axie monsters, which are one-of-a-kind NFT tokens. Each combat won will win you SLPs, which can be exchanged for real money on cryptocurrency platforms. This highly popular play-to-earn game in the crypto world is heavily influenced by some popular video game franchises, such as Pokemon and Tamagotchi. You can collect, breed, battle, even buy and sell Axies, which are, of course, known as tokens.
Axie Infinity Shards (AXS) is the native asset of the protocol. It's used to manage the game's governance. AXS may also be staked.
Gods Unchained – It is an epic digital trading card game which is developed by Chris Clay, the game developer who is a former gaffer for Magic the Gathering Arena. God Unchained is a free-to-play video game, in which players can amass collectibles over time. Immutable founder Robbie Ferguson recently said this about the game.
In Gods Unchained, players can battle for glory in competitive arenas, win and collect cards by competing in matches, buy and sell cards within the in-game market, and build the perfect deck to top leaderboards. The game is completely free to play (though not pay-to-win), focusing on fair competitive play.
GALA Games – Become an entrepreneur in the new economy with GALA Games! You can trade your favorite cryptocurrencies on this platform. It's easy to get started – just buy some NFTs from other players or mine them yourself by installing our wallet software onto mobile devices like smartphones, tablets and laptops (for example). The key thing about these tokens is that they're unique because each one represents something different; there aren't many people who will want two copies of somebody else's custom portrait once it becomes famous through social media channels such as Instagram. Last year, GALA grew by more than 10,000%, blowing past more well-known metaverse/gaming platforms.
Working model of play-to-earn games
Profitable games in the Play-to-earn category combine play and financial gains. They typically reward players repeatedly for performing tasks, usually by just repeating a series of actions. Some of the games we play are gaming flankers, kettle of fish, and other GameFi games. There are two primary ways to make money while playing these games and these are as follows:
1. Accepting in-game cryptocurrencies as payment. Axie Infinity's newest game, the Smooth Love Potion (SLP) can be obtained by completing tasks or battling others.
2. Each NFT represents an in-game item, character, or other collectible that can be acquired or otherwise traded. Depending on what game it's from, these may be purely aesthetic in nature or serve another purpose.
A third alternative is to earn by employing play-to-earn games with NFT and crypto-asset stakes. Some NFT games enable users to lock NFTs or cryptocurrencies into smart contracts, which earns users rewards. As a result, users can obtain a guaranteed MOMO NFT Mystery Box for staking MBOX tokens. NFT boxes are a great way to find the perfect rare item without spending large amounts of money. In order to receive huge returns, you will need to make a very huge initial deposit.
Blockchain technology makes the play-to-earn games a secure option
Playing to earn is nothing new. Online games (usually MMORPGs) with crypto-anarchist economies have abundant blockchain-based auction houses and gold farms. The crucial difference between digital cryptocurrency exchanges and popular online video games is the blockchain technology that they operate with. Blockchain offers many features that directly attest to the existence of a currency, including its legitimacy, demand, and rarity.
You may consider a blockchain system like a database that stays immutable and tamper proof. It is governed by a network of users, each of which has a copy of the blockchain information. This makes changes to, duplications, and deletion of information extremely hard.
As a consequence, blockchain-based games can be developed in such a way as to protect against theft or fraud, for example, through item duplication, gold hacking, and other routines that are rampant in traditional games. An important portion of in-game items' value is its rarity. With blockchain, there is no copy and paste. If an object is unique, there is no way for it ever to be duplicated. This allows real value to be created.
How to start playing play-to-earn games
In each of the play to earn games, there are varying types of requirements for different players. Most play to earn games requires players to have a crypto wallet such as the MetaMask or Binance Chain Wallet to have the crypto stored and also help players to connect to the game.
Players in the play to earn games might also be required to put a certain amount as an initial investment to continue with their games and carry on activities such as building a team of in-game characters or buying new gaming assets. It costs to make an entry into the digital crypto economy.
Players till October 2021 in the Axie Infinity P2E game needed to make an early investment of around $600 to buy three Axies. Although players could pay off this amount not at a go but slowly within a certain period of gameplay, it still served as a major roadblock to the entry of players.
Players in the play-to-earn gaming model could also explore the option of the so-called scholarships, where they could essentially use Axies from another player free of any charges at first and then give the lender a percentage of the earnings they receive from that player. Simply put, a certain amount of the income is shared with the player facilitating the scholarship. A player first needs to take a few steps such as build a starter team, finish a set standard tasks and challenges and then they could start off to steadily earn SLP – an ERC-20 token that can be traded in crypto exchanges or marketplaces.
Why Are Play-to-Earn Games So Popular
Play-to-earn games have brought about a transformation in the way gamers indulge in games. It is not just the manner in which the game developers design the games that has changed drastically but even the way players perceive the games has transformed completely. Hence, the core element of the play-to-earn-games is the realization experienced by the players of the real world value that these in-game assets bring for them. Players are most unlikely to settle for a one-way profitable way for the developer alone and give into the greed of the developing communities. It is in the context of their demand for more significant participation in the in-games and their desires to own the assets for which they are needed to dedicate extra efforts to acquire NFTs. For most of all, it is the option to make good profits that the play-to-earn games emerge as popular.
The Future of P2E Games
Now that we've established what P2E is, it's evident that this is a notion that's just getting started. After all, NFTs have only been around for a few years, yet there are already NFT games all over the place that allow you to earn real money while playing. For developers and players alike, blockchain gaming is the foreseeable future of the e-gaming industry. Play-to-earn is a good business model that allows both developers and players to monetize the time they spend doing what they enjoy. Moreover, the world is becoming more and more digital.
In the coming years, peer-to-earn (P2E) games will grow increasingly popular. The ability to earn cryptos and NFTs while playing games is quite appealing, as is the ability to exert unprecedented levels of control over your in-game assets. P2E gaming will finally become mainstream once large gaming studios begin to properly embrace blockchain technology.
Zeeve is the primary Blockchain as a Service (BaaS) platform that supports businesses and blockchain start-ups to build, deploy and manage decentralized apps and blockchain networks. It serves as a low code automation platform that supports several blockchain protocols with cutting-edge analytics. It not only deploys and builds the networks but also monitors the nodes. Explore the dominant set of APIs to set up DApps for a series of use cases across several verticals. With an experienced and expert team of blockchain solutions providers, we support applications in all spaces. Get to know more in detail about the blockchain as a service offerings, nodes and smart contracts by calling us!