In 2022, more and more enterprises are coming forward to invest in blockchain. With vast real-world applications, blockchain is gaining the attention of business leaders worldwide. In addition, with enhanced business models, enterprises now have the vision to connect more with their consumers. With digital ecosystems expanding daily, enterprise blockchain will provide an immense value to individuals and organizations.    
There is accelerating growth in the enterprise blockchain around the world. Investments in enterprise blockchain are projected to reach $16 billion by 2023. In addition, more than 14% of the enterprise blockchain has moved into production as compared to 5% in 2019.
We must acknowledge that leading-edge enterprises are taking tangible steps to enter the blockchain domain. In this blog, we will discuss 8 top trends in 2022 for the enterprise blockchain world and how they are also beneficial in the long run. 
Enterprises connecting on Metaverse
With the advancement of Web3 experiences for users, businesses have overall changed. With the onset of the metaverse, there is a fresh approach to staying relevant to your audience.
One of the basic applications which you may have heard of; is using metaverse for the gaming experience. However, companies with enterprise blockchain can think of hosting events. Leveraging the virtual events as a way to promote their businesses. 
On the enterprise blockchain, the creation and distribution of marketing content, targeting, and positioning of the services and products are hassle-free. The market campaigns are also easy to customize.
Big tech giants such as Facebook have already adopted blockchain-themed identities. Also, similar to Decentraland, Nike has partnered with Roblox to create a Metaverse called Nikeland.
By connecting with their audience in a virtual environment. Brands can stay relevant with their customers while also attracting new leads. On that note, enterprises should not delay the metaverse adoption as it will help reach the global audience.
Marketing with NFTs
Many enterprises don't know that NFTs (Non-Fungible Tokens) can be a great way to boost engagement. It is a new means of digitizing the assets and monetizing the intellectual property rights.
Initially, they were introduced as collectibles, art, gaming, etc. These are the unique and irreplaceable codes on the blockchain system. With advancements, the NFTs can be used to manage the supply chain. Although, as weird as it may sound, enterprises can do it.
As we know, brand marketing is one of the crucial aspects of the corporate sector. When it comes to customer engagement, nothing can beat NFTs. To do so, it will be integrated into the enterprise blockchain network. This will boost the brand value along with long-term customer engagement.
For example, NFT can provide information about each component in the automobile industry. Thus, a better way to check the authenticity of products.
B2B Collaborations
B2B collaborations are essential for business networks. Large-scale enterprises are adopting the blockchain for efficiency and better traceability. Thus to bridge data gaps, enterprises collaborating would harmonize business operations. The collaboration will solve the issues of privacy among industries, as well.
Consider a health insurance claim, where there will be sharing of sensitive medical records with the insurer. Or a manufacturing industry sourcing parts from different industries, where there are off-chain communications as well. Here organizations can save data on decentralized applications (DApps) where both on-chain and off-chain communication would be possible between multiple participants.
The collaboration in the B2B regime is much more transparent on an enterprise blockchain network due to its transparent data processing.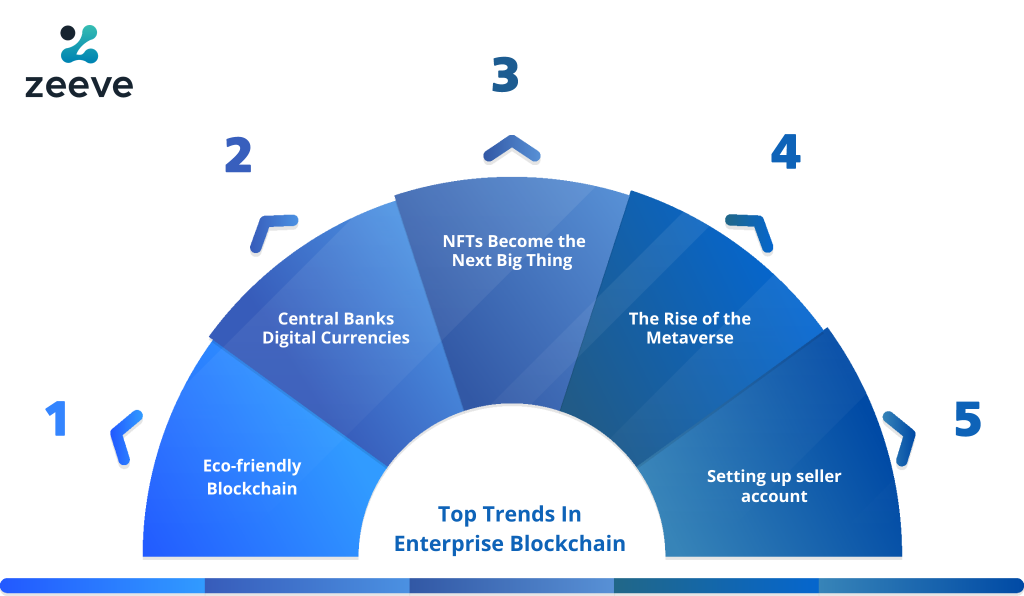 Tokenization Programs
Enterprise blockchain networks can now tokenize any intangible assets of a business. This can be made available to the public for trading, and shareholding. The tokenization represents multi-party ownership of an individual asset. An enterprise can tokenize an asset and can divide its ownership. And further, sell the tokenized assets. 
Goldman Sachs has announced its tokenization program recently. The tokenization will cause a reduction in counterparty risks and reconciliation. It will further improve the overall liquidity and settlement inefficiencies. The tokenization can be done in the form of — payment tokens, utility tokens, and security tokens.
The tokenization will benefit the enterprise blockchain to tackle counterfeiting in the supply chain, luxury goods, healthcare, and many more. Stablecoins will also optimize the enterprise processes by eliminating intermediaries. The settlements will easily happen alongside the business transaction with minimal volatility.
DeFi on Enterprise Blockchain
As we know DeFi or Decentralized Finance is a growing financial technology based on blockchain that works without any intermediaries. The main objective of DeFi is to increase access to financial services. DeFi has enormous value for enterprises as reliable data can be updated on the blockchain without fraud risks.
However, DeFi is more suitable for the public blockchain. The transactions can still be traced on a public blockchain even if the addresses' names aren't shared. Therefore, using a Baseline Protocol can tackle the problem of privacy. Using the protocol, large enterprises can securely connect across a public blockchain.
In the upcoming years, there will also be a rise in DAOs as governance mechanisms. Keeping in mind, R3 has already announced a regulatory-friendly DeFi network stating that — it would be based on a proof-of-concept.
Enterprise blockchain and IoT Integration
We know that the Internet of Things (IoT) can monitor production and distribution in real-time. Along with blockchain adoption, enterprises can adopt IoT. Among the enterprises adopting blockchain, about 86% have also opted for IoT integration.
By incorporating IoT with enterprise blockchain, handling business operations would be simpler. Blockchain fills the communication gap between IoT sensors and data handling. At the same time, IoT is bridging the gap between the resources. On the other hand, Blockchain maintains the transparency and integrity of the data.
The union of enterprise blockchain and IoT technology can be done when IoT will track the attributes of a product, such as location, temperature, etc., and maintain the same information on the distributed ledger. 
Enterprise blockchain for Sustainability
With ever-increasing environmental concerns, enterprises are looking forward to the solutions to meet sustainability along with business goals. Due to innovations in existing consensus mechanisms, even public blockchain networks such as — Ethereum the energy usage will decrease by 99.95%.
When we talk about enterprise blockchain, it can work on less energy as the enterprise blockchain is customized for specific purposes. It doesn't have a large user base, and enterprise-ready chains normally work on a proof-of-stake mechanism. The mechanism that is more energy-efficient.
With the increase in consumer awareness, customers demand environment-friendly and ethically sourced commodities. The early blockchain networks had an energy-intensive issue. However, recent blockchain networks such as Hyperledger Fabric are both eco-conscious and fast. In 2022, enterprise blockchain will be helpful for organizations to meet up their sustainability goals. 
Fair Trade
There are different prices for raw materials in different countries. Ultimately, producers have to compensate for the fluctuations in the price. The automation due to the usage of blockchain in enterprises would lead to fewer intermediaries.
Suppose supply chain digitization is done for the procurement of materials. Here, a recognition technology can be used to evaluate the quality of raw materials. The quality of the raw material will be useful in determining the price. Furthermore, the payment can be made via the blockchain platform itself.
Although, enterprise blockchain's main goal is supply chain management, not fair trade practices. Still, the underlying technology supports fair trade practices due to its across-the-board transparency feature.
Concluding Thoughts on the Enterprise Blockchain Trends
There will be a torrid growth in the upcoming years in enterprise blockchain as it has the potential to streamline business processes. The technology is promising for enterprises as it delivers automation, better efficiency, and reduced costs. 
Trends discussed here are co-related to each other, as well. Every trend can revolutionize organizations that otherwise would lag due to infrastructure and improper planning.
The key here is to look beyond the permissioned blockchain network and bridge the gap between the public and private blockchain networks as well. Future businesses must not overlook the merits of blockchain as the technology is providing more clarity & success.
What we offer at Zeeve
Zeeve is a leading blockchain infrastructure company supporting businesses, and blockchain-based start-ups to create, deploy, and manage decentralized applications and blockchain networks. We have cost-effective and easy-to-adopt packaged solutions for enterprises.
Zeeve is a low-code automation platform that supports the backends of several blockchain protocols and provides comprehensive analytics. It not only deploys and builds the blockchain networks but also supervises their nodes.
Get in touch with our team to learn about our blockchain sharing, managing, and deploying infrastructure platform.