Brands across the globe are on a quest to adapt to the latest technology. Embracing the latest blockchain-based technology has myriad benefits, from trustless and permissionless to decentralized. Acquiring emerging technology helps expand profitability and trust for both users and businesses.
One such latest technological development is the metaverse. The word metaverse signifies beyond the universe, & it is a way to bring people closer. With metaverse, you can walk in a fancy garden with friends, try a luxury bag, and know the story of vintage artifacts without commuting anywhere.
Metaverse enriches the place you live by adding an extra dimension. This happens by understanding the GPS data, images, and texts applicable in an area. The metaverse can be a virtual world that can be viewed via a VR headset. Or it can be integrated through a complete mobile digital overlay. In 2023, businesses will benefit from capitalizing on the $1 trillion opportunities provided by the metaverse.
In this ultimate metaverse guide, let's get to know more about the metaverse, its features, and how enterprises can benefit from it.
What is Metaverse
Metaverse is the evolving 3D digital virtual world. It presents a combination of both real and online worlds. The users here can create their 3D avatars and can engage with similar 3D avatars in a real-life environment. Further, all of this becomes possible through blockchain technology. It is an advanced version of social media that connects users to a hyper-realistic, immersive, and interactive ecosystem.
A metaverse has no single authority to control as the ecosystem runs on the distributed ledger technology blockchain. The virtual world has an economy to offer and makes trading assets possible with the usage of crypto. You can get all the sensory experiences on the platform using certain devices. Some of the devices you need to enter the world of Metaverse are:
Virtual Reality Headset
The high-tech goggles once worn show the metaverse. It tracks the head and eye positioning for a more realistic vision of the world. VR uses 3D computer modelling to generate an engaging virtual environment. The global VR industry is about to reach $184.66 billion, per Mordor Intelligence. This clearly indicates the growth the metaverse industry will encounter in the upcoming years. 
Augmented Reality Gear
More expensive than a VR, the AR gear is less bulky. The digital world seems more tangible in AR as it uses a real-world setting. AR incorporates visual, sensory, and auditory information to intensify the physical-world experience. One example of AR is trying your favourite shoes while sitting at home.
Gaming Console
The gaming consoles are not only for gaming but can be used for accessibility of the metaverse. The gaming consoles are suitable for the metaverse as they can be easily linked with AR/VR headsets. Gaming consoles are also best for bringing multiple metaverses together.
Computer
As a result of their configuration, computers are a prime means for accessing metaverse systems. PCs are the most common platform for accessing the metaverse. However, it's necessary to understand that not every computer is the same.  A computer requires a good graphics processing unit to interpret a virtual world's landscape. Additionally, you'll also need to buy an AR or VR system to operate with your computer. To conduct transactions within a metaverse system, you might even need a crypto wallet.
Mobile
Your smartphone can provide you with the experience of Metaverse. Platforms such as Roblox are available on iOS, Android, and other platforms. Furthermore, Roblox is a great starting point because of its easy-to-understand user interface, and you can upgrade the hardware while using it.
Features of Metaverse
In addition to interoperability, immutability, transparency, and data sharing — blockchain is an emerging web3 technology that allows nodes located anywhere in the world to exchange information with each other. Since blockchain technology is also responsible for creating cryptocurrencies and distributed ledger technologies, it shouldn't come as a surprise that the Metaverse platform is based on it.
As suggested by Jon Radoff, there are seven layers to the metaverse. Those layers are
Infrastructure: The foundation layer is the infrastructure layer which requires 5G, WiFi, 6G, Cloud and certain other hardware materials. A robust infrastructure is required for the metaverse as the computing increases multi-fold.
Human Interface: There is a human interface possible on the metaverse through devices. These are the devices that we use such as mobiles, smart glass, haptic gestures, etc to connect on the platform.
Decentralization: Decentralization on the metaverse ecosystem is possible because of blockchain technology, edge computing, and AI.
Spatial Computing: With the usage of 3D engines, VR/AR geospatial mapping, and UI spatial computing is done. Spatial computing is the digitization of machines and people's activities so that there are optimized actions online.
Creator Economy: The creator economy is when there is commercialization on the platforms, and there are asset markets. The creator economy depends on monetization and the metaverse creates value in the market.
Discovery: The discovery of the metaverse platforms depends on ad networks, social content curation, ratings and stores.
The Famous Metaverse Platforms
Decentraland
A blockchain-based virtual social setting for building, trading, earning money, and exploring online worlds. As the backbone of Decentraland, it acts as a digital ledger that documents crypto transactions over a network of devices. There are numerous things you can do with Decentraland, including holding meetings and trading marketplaces for virtual goods. Decentraland's MANA is the first-ranked crypto in the metaverse. Crypto can be used to buy virtual things on the platform's marketplace.
The Sandbox
Sandbox is an Ethereum-powered virtual gaming world. The network has its own SAND coin based on Ethereum and supports many devices. . The second-ranked crypto on the metaverse is — SAND. The sandbox is recently moving to Polygon's layer-2 solution. As a result, the network's transaction fee will be reduced. The platform allows creators to own their content in the form of NFT. Sandbox has a voxel editor, marketplace and a game maker to provide comprehensive user-generated content.
Axie Infinity
It is a play-to-earn metaverse game on the Ethereum blockchain. The platform is popular among gamers. The transaction via NFT on the Axie Infinity platform is a transparent process allowing virtual ownership. Axie leads in metaverse and NFT token. They have launched many accessories in the past and will keep on doing so as the platform believes in customization. The players can see the avatars of many different characters.
Bloktopia
Bloktopia, along with new virtual experiences, is a revenue-generating platform. People here can design their avatars, participate in activities, learn about crypto, and buy virtual "real estate". Designed as a 21-story VR skyscraper, the Bloktopia metaverse platform is decentralized for future entrepreneurs. A decentralized environment for entrepreneurs, investors, players and developers will be created by Bloktopia's virtual and augmented reality technologies, alongside blockchain and crypto.
Metahero
Metahero allows users to scan objects, a platform launched by Binance Smart Chain. The scanned objects are then put into the virtual environment. With the help of ultra-HD photogrammetric scanning technologies, the Metahero brings physical artifacts into the digital age. Metahero is also using meta scanning technology to recruit crypto users.
Metaverse for Enterprises
Enterprise metaverse is the metaverse platform which enterprises can specifically use for business growth. Businesses can use the enterprise metaverse to promote digital tools and services. An enterprise metaverse can improve the leadership opportunities for the companies, be helpful for training employees, create meaningful connections with consumers and drive more engagement on the platforms.
The built-in features can be used for real-time communication, payments, and creating personalized avatars. Furthermore, online personal data and security will improve as there will be self-sovereign identity authentication. The branding on the metaverse is dynamic and real-time. Enterprise can leverage the power of the metaverse in the following ways:
Gamification
Companies can use the metaverse to upgrade the consumer experience. The metaverse has the potential to transform customer interaction and deliver new experiences to its customers. When we say better customer experiences, that's possible through one of the ways called — Gamification. Gamification improves employee retention. Entertainment increases with gamification as there are fun and creative elements present in the virtual event. Moreover, gamification can also be employed for training, loyalty programs, and skill learning.  
Content Distribution
The content distribution becomes streamlined on the metaverse. The presentation of text and videos will become better on a metaverse platform. A digital-twin-powered real-time product can be a replacement for a pre-recorded product demo. Multiverse is the collection of multiple virtual worlds that will change the content distribution, furthermore. Our approach to content distribution will change as a result of metaverse's application in the field of digital marketing. For instance, with metaverse, users can view IKEA's products in alignment with their room.
Digital Marketing and Advertising
Marketing and advertising become better with the usage of the metaverse. By adopting the metaverse, digital marketers can drive interactions with audiences, improve visibility, and build stronger bonds. Engagement marketing and advertising change completely by leveraging the metaverse. Some challenges remain, however, such as the verification of intellectual property rights and the control of digital assets. The usage of NFTs can control intellectual property-related issues.    
Metaverse services that Enterprises Can Opt
Businesses can opt to build a virtual real estate empire allowing members to buy, sell, and manage virtual lands seamlessly. E-commerce companies can also leverage the metaverse as a way to empower users to try and buy products. Organizations can create a grand NFT marketplace that can be created by incorporating metaverse. In order to facilitate smooth, easy, fun, and seamless NFT transactions, developing a marketplace for NFTs is helpful. The enterprises can choose metaverse for:
Metaverse NFT Development
Metaverse NFT Marketplace Development
Metaverse Games Development
Metaverse Social Media Platform Development
Metaverse E-Commerce Development
Metaverse Real Estate Platform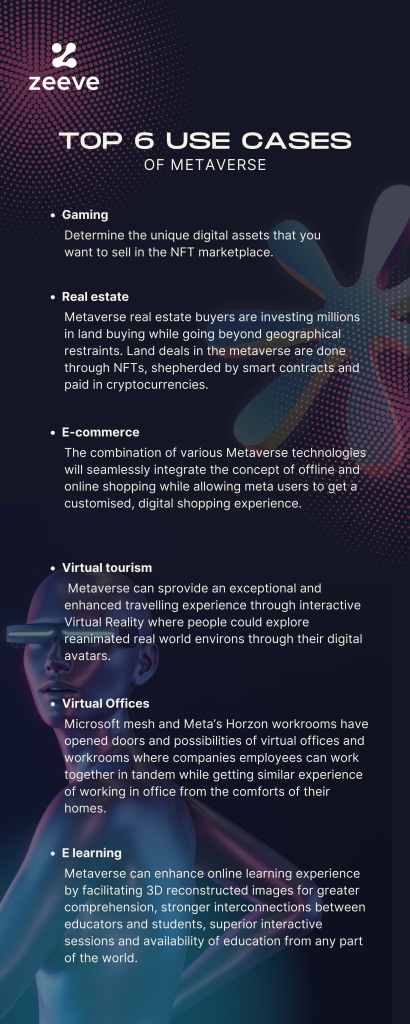 Few of the Concerns Regarding Metaverse
Although the metaverse technology is great, there are a few potential concerns regarding it. Firstly, the metaverse requires a fast internet connection. There should be no lags — otherwise, there are time-related differences. On top of that, onboarding the users on the metaverse platforms should be a simplified process. 
The cost of the metaverse equipment is relatively higher. Companies need to plan before any kind of investment in the metaverse. Lastly, a strong connection between identity authentication and security protocols should be established during avatar interoperability and transactions.
Final Note
There is still a lot to be done in the field of the metaverse in terms of technological developments. But still, the trend is going to stay and it will increase more and more in recent years. Although, people need to find out exactly how the technology will shape after a decade. But we can know more about it today by adopting the metaverse in enterprises, organizations and many other areas.
There will be a lot more progression in the metaverse. There will be an increment in the buying of digital assets. The accessibility in the metaverse will increase as well. Across the world, there will be an economy powered by blockchain — and metaverse, NFT, and crypto all would be part of it.
Partner With Zeeve
Are you excited to create one of the finest 3D immersive experiences for your company? We are a leading metaverse development company and we will help your organization to generate the best revenue with the adoption of the metaverse. We support businesses and individuals who are positive about the mega-futuristic initiatives. Make metaverse integration and development hassle-free with Zeeve.
Zeeve is the Web 3.0 and Blockchain Infrastructure Management platform trusted by thousands of Enterprises, Web 3.0 Developers, and Blockchain Startups. To learn more about Zeeve, feel free to connect with us on Twitter and Telegram. For more details, schedule a free call.