As we usher in a new year, it is also important to review the year gone by and identify the key lessons for the blockchain world to make the space better and bigger for all the contributors and stakeholders of the domain. Looking back at the year 2022, one finds that the cryptos, blockchain-backed financial trading platforms have seen a downward cycle, and NFTs have reached their lows, while blockchain gaming markets continued to register some momentous changes and there are several takeaways for gaming entrants and existing players in 2023. There's little doubt that the metaverse is playing a significant role in enhancing the attractiveness of the gaming space but there were some unique trends that marked web3 gaming market in 2022 and also shaped the course that the blockchain gaming app builders need to chart in 2023.
Blockchain technology-powered gaming companies are exploring newer ways to add unique features and include more advanced gaming options that can elevate the fun level of gamers, thus making blockchain gaming more attractive for investors, developers and players. In this blog article, we will review some of the most popular trends witnessed in the blockchain games and how the industry has fared, games that topped the popularity charts in the past year and much more. We will also discuss what other things can make the industry more appealing to gamers in the future.
Web3 games led blockchain market growth in 2022
Gaming has been known as an excellent avenue into the online world of cryptocurrencies, blockchain, and online anonymity. The belief that the power of blockchain gaming will drive the growth of web3 mass adoption and pull more enthusiasts into the space is not something unique only to game-fi investors alone. In fact experts suggest that game-fi and crypto go together and more and more people have started believing that the most of the blockchain games will also lead to the emergence of a powerful in-game crypto economy in the next few years.
DappRadar in its industry report for 2022 showed the gaming sector to be the highest most attractive space in the blockchain domain for developers to build exciting applications. The report showed the transaction volumes to have reached a staggering 94.17% higher as compared to what it was in 2021, indicating that no other space recorded such significant growth.
The gaming activities continued to lead the growth in the blockchain market in 2022 despite the negatives such as FTX collapse, UST-Luna saga and NFTs hitting their lows. The indication of the strong gaming-app driven blockchain space comes from the figures reported by DappRadar for the month of October and November, wherein gaming accounted for about half of all blockchain activity. DappRadar – the platform that enables users to track, analyze, and discover decentralized applications tracked across 50 networks and reported gaming to account for half of the activity in the blockchain space, with more than 800,000 daily Unique Active Wallets (UAW) interacting with games smart contracts in November 2022, with nearly $698 million in transactions recorded for the period.
A survey conducted late last year by ChainPlay revealed that around 75% out of the total 2,428 GameFi investors reported investing in this growing space largely for their love for gaming. Moreover, demand for not just finance-oriented but fun-based blockchain gaming is also on the rise based on the premise that the players can truly have an enjoyable game with new features while it can also fully trust the game mechanics and outcomes because they are cryptographically secure.
Popular games of the year in review
In 2022, there were a plethora of popular blockchain games that kept the gamers hooked and also drew the attention of investors and entrepreneurs. Games that combined the finest aspects of both traditional as well as novelty of blockchain topped the popularity charts by providing a truly immersive and engaging experience. Let's take a look at who were the biggest players in the blockchain game in the year gone by.
October 2022 was a thrilling month for Web3 gaming, as Alien Worlds and Splinterlands racked up over 225K and 151K daily UAW respectively. But the highlight of the season has to be Trickshot Blitz's impressive 70% increase in activity thanks to its collaboration with Solitaire blitz on Season 7 Challenge! By October it had reached an exhilarating 23k+ DAU (daily active users).
Besides, another game that witnessed high levels of activity was PlayMining where gaming movement jumped by 33%, recording over 22K UAW in the month of November itself. It was the launch of the new Web3 game – Graffiti Racer that can be attributed to the flocking of new gamers and rise in gaming activity on the platform.
With the popularity of blockchain gaming soaring to new heights, NFTs too felt a positive impact as the total trading volume reached $55 million in the past two months. In terms of the total trading volume, it was the Gods Unchained that remained at the top, creating over 60% of the total trading volume for game assets, reaching $21.6 and $13.45 million in October and November 2022.
STEPN – first move-to-earn mobile NFT game powered by the Solana blockchain allowing users to mint shoes quickly also gained considerable traction in 2022. At one point boasting an impressive 2.23 million user base and over 700k pairs of said shoes minted – it was a product admired by many investors who rushed their funds into its portfolio controlled by FTX; only for things to take a dramatic turn after news broke out about the company's sudden collapse which caused drastic price drops approaching 33%. Despite this however, STEPN's founders remain committed: they assured people that no matter what happens at FTX – they are determined to continue building amazing products designed around their ecosystem.
Trends in the web3 gaming witnessed in 2022
Though all risk-on assets have felt the pinch of rising interest rates and reduced venture capital funding, Web3 gaming stood out as a major driver in blockchain expansion worldwide in the year gone by. Developers remained actively engaged due to plentiful data available on this exciting sector! It is anticipated that the web3 gaming industry will continue to expand in the coming years, making it a major contributor to the growth of blockchain and cryptocurrencies worldwide. 2022 proved to be an exciting year for web3 gaming with major developments in the sector and here is a lowdown on all the important developments witnessed over the past one year.
Daily user count in gaming
At the start of 2022, a report from Coindesk showed that the total number of blockchain games, including those that are no longer active, had increased by 71% in the last year, reaching 1,179 from 398. In 2022, the WAX protocol was the most sought-after blockchain for web3 games, with an average of 350,000 daily users. However, from January 1st to December 15th of 2022, blockchain gaming activity witnessed a decline of 45% in daily active users, going from 755K to 421K. Unfortunately, many investors and players have experienced the consequences of NFT game developers hastily joining the trend without having a solid plan and a very strong foundation. This has resulted in numerous "ghost" projects that have fizzled out, leaving investors with considerable losses. 
Failure of some gaming projects
Many ambitious blockchain-based gaming projects struggled to find an audience in 2022 due to unsatisfactory user experiences, such as lack of fresh gameplay and taxing gas fees. These elevated transaction costs often cause unbalanced tokenomics that make long term success difficult or even impossible. In May, the number of players of Axie Infinity, the biggest blockchain game by far, dropped to less than 1 million from its peak of 2.7 million in November. It is not the only one experiencing this trend.The play-to-earn (P2E) model was thought to be the main culprit behind the bleeding players. GameFi and the notion of play-to-earn experienced a surge in popularity last summer, yet failed to sustain their swift expansion.A major issue is the quality of the games themselves. According to Huobi, blockchain games are not well-crafted and lack sustainable gameplay. Instead of concentrating on graphics and gameplay, the focus of both players and developers is on economic incentives.
Multichain games
GameFi projects failed to gain traction in 2022 due to a lack of user satisfaction. This can be attributed to unengaging gameplay, slow processing speeds, and unsustainable tokenomics caused by high gas fees. To ensure success, GameFi must provide a smooth user experience, with all assets, interactions, and transactions working together to form a self-sustaining economy. Unfortunately, statistics from DAppRadar show that Ethereum-based games experienced an 87% decrease in daily trading volume in May 2020 due to high gas fees. Similarly, Polygon, despite its reputation for low-cost blockchain, has seen its gas fees rise by 400% in the past few months, leaving users feeling frustrated as gathered from data on Analytics Insight.
Most of the challenges to the growth of blockchain games stem from the fact that they are built on a single blockchain, which is better suited for financial transactions than gaming. The incentive game between the chain and its applications also contributes to the stagnation of blockchain games, as the more developed a game is, the higher its gas fees and the slower its processing speed. Multi-chain games offer a solution to these issues, as they provide users with the flexibility to bridge their crypto assets across multiple chains. This allows them to experience a game in any metaverse they choose, without any delays or expensive fees. It will also ensure that users have a smooth and enjoyable gaming experience. Furthermore, the multi-chain solution can help developers create a more efficient and secure gaming environment, as well as provide them with more options for monetization.
Billions of VC Investments pouring funds into web3 games
Crypto game tokens were not spared from the bear market, resulting in a decrease in players motivated by profit. This caused some in the crypto gaming community to write off the sector as a passing trend. Although funding in blockchain-based games and Metaverse projects was slow, venture capital firms continued to pour money into the Web3 gaming and Metaverse sectors  to back the growth and production of blockchain-based games and their related infrastructure. However, the total amount invested dropped from $5.5 billion in 2021 to $3.7 billion in 2022 as per the Footprint Analytics. Animoca Brands was the leader in this space, investing in 61 projects, followed by Infinity Ventures Crypto with 30 and Shima Capital with 29 (CoinMarketCap). Despite the dip in investments, the number of GameFi projects was still increasing, albeit at a slower rate than in previous years. 
Investors such as Framework and a16z have continued to invest hundreds of millions of dollars in the development of new blockchain games, betting on a future in which blockchain gaming achieves widespread acceptance. In November 2022, despite the failure of FTX, blockchain games raised a total of more than $320 million as per reports from DappRadar.
Shift from P2E gaming models to a more sustainable form of gameplay
By early 2022, the enthusiasm for play-to-earn (P2E) games and platforms had begun to wane. Web3 participants began to express the need for games to be more entertaining and less focused on finance. Gamers must find a way to make their gaming experience sustainable by combining economic farming simulation with real-time, skill-based gaming loops. This will draw more users into the ecosystem. For these gaming loops to be successful, they must be both aesthetically pleasing and entertaining for players,
Sizeable increase in total number of games
Games with high-quality content and those that leveraged the best of blockchain gaming infrastructure managed to successfully pull the investors. As per sources, $534 million was raised in October and November in blockchain gaming space, and a number of projects were launched to develop Web3 gaming infrastructure. Examples of these are the Horizon Blockchain Games and Fenix ICOs, both of which have invested $190 million in this area.
The team of Walken, an M2E Dapp platform, reported that it had acquired two million registered users despite being in the face of the challenges posed by the current crypto industry, and this metric has grown by about 100 times since the start of August 2022.
In September, Theorycraft, an independent game studio, made headlines with a $50 million B round investment. The founding team consists of members from Blizzard, Riot Games, and Ubisoft, indicating a trend of established gaming companies and developers entering the Web3 space (Cryptoslate). October saw Horizon Blockchain Games, developer of Skyweaver, secure a $40 million Series A funding round with the involvement of Ubisoft and Take-Two Interactive (DappRadar). Most recently, Fenix Games, a Web3 game publisher, raised $150 million to acquire, invest, and distribute blockchain games (DappRadar).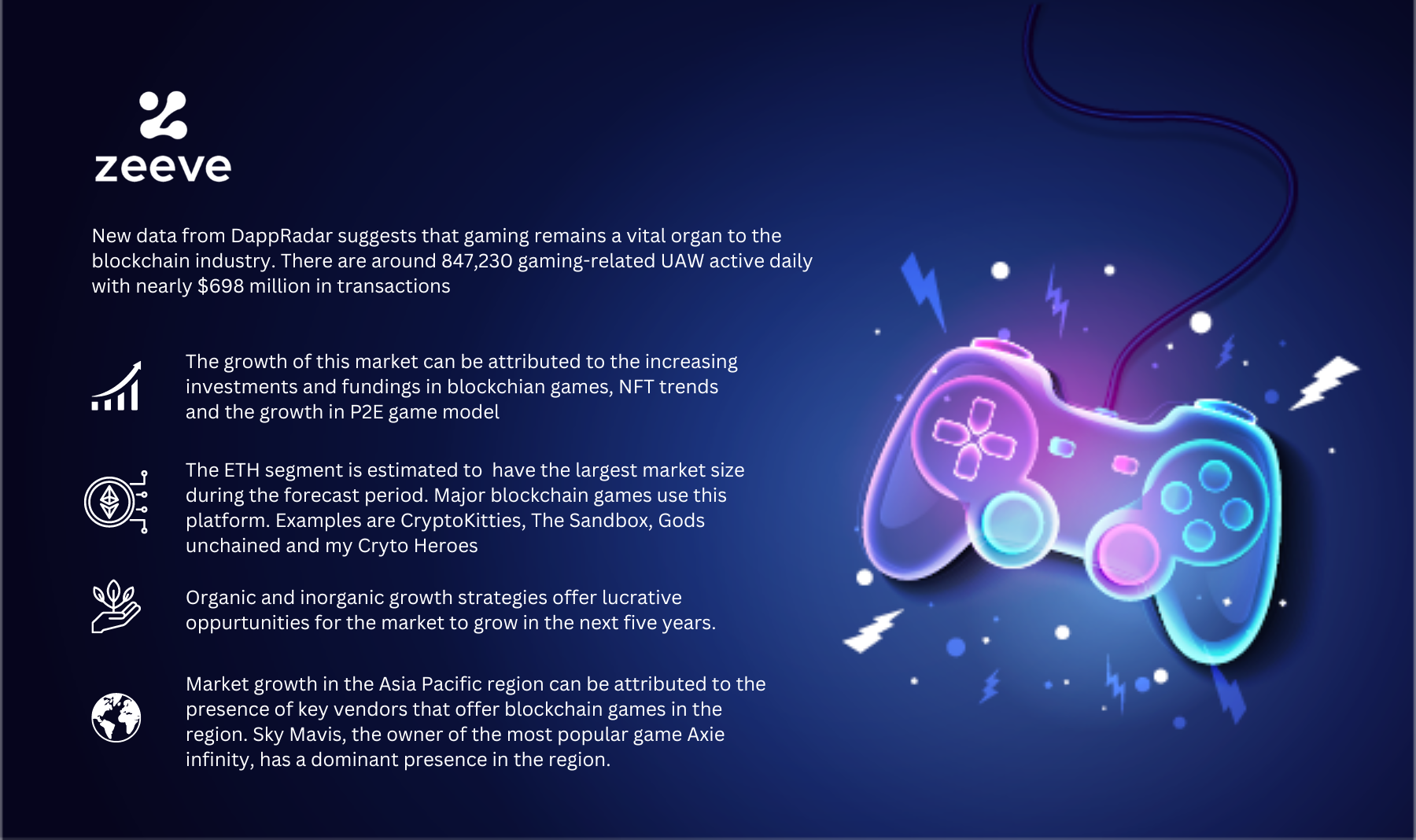 Major web2 players jumping on web3
This year, numerous major Web 2 game companies have begun to be interested in Web 3. In October, Double Jump Tokyo partnered with Sega in order to promote the latter's well-known Sangokushi Taisen game series in the blockchain.
Web3 is beginning to expand as a long-term application for long-lasting legacy gaming companies like Xbox. The head of Xbox went so far as to express his enthusiasm toward metaverse gaming, but with little concern about cryptocurrencies as pay-to-play games.
DAO in blockchain gaming
One of the greatest DAO-enabled video games of all time, Alien Worlds, has created the perfect scene for the future of DAO mechanics in the realm of blockchain gaming. Prior to this, it was basically DeFi protocols, large businesses, and community-centered projects that explored the power of DAO economies. But when Alien Worlds announced the introduction of syndicates to their metaverse earlier, the nascent decentralized autonomous organization community all came rushing to get in on the action. Gaming communities were able to enjoy the possibilities of Decentralized Autonomous Organisations (DAOs). These new kinds of gaming ventures allowed community groups to maximize their engagement potential without relinquishing as is the case with traditional gaming hubs. The initiative has the benefit of allowing communities to have a say through on-chain voting mechanisms and elections, which previously existed only by restriction.
Future outlook: How blockchain games should improve in 2023
Blockchain games are undergoing great changes to stay abreast of constantly evolving player demands, and the complexity of that environment is only increasing as more gamers compete for user retention. The vision for a wide array of Web3 gaming is growing, as an increasing number of games are accessible to mainstream users. More knowledge about the NFT user experience has led to many more entrants to the field of Web3 gaming.
The paradigm shift to making blockchain-based games more immersive, fun and engaging is already seen. Gradually, blockchain gaming apps will not be only about allowing players to take ownership and control over their in-game accomplishments but they would also need to offer something distinctive and more fun.
A new survey and report from the Blockchain Game Alliance (BGA) has revealed that industry professionals are expecting gameplay improvements to be the primary driver of blockchain gaming adoption in 2023. Web3 developers are focusing their efforts on making blockchain games more enjoyable and engaging experiences. The survey found that the majority of respondents believe that increased user engagement and improved user experience will be the key to success in the coming year.
Developers are trying to alter the user's cryptocurrency-earning viewpoint of blockchain games. Instead, they intend to focus on blockchain-based online games as elements that offer a sense of ownership. This view is projected to be in the most important users in 2023. In 2023, major web3 developers will continue to change the overarching impression that blockchain games are about getting cryptocurrencies. Instead, these individuals will focus on blockchain as a way to create enjoyable games, foster immersive gameplay, and increase player ownership.
It is believed that traditional gaming studios and existing gaming franchises transitioning into Web3 will be the two major drivers of the gaming industry in the upcoming year, following the implementation of gameplay improvements.
As gaming studios anticipate launching anticipated innovations that make technology part of their strategies, new models that function best by utilizing user-created content, intriguing gameplay, and free-to-play models will appear to gain the upper hand. For the GameFi space to become mainstream, it needs Triple-A games from major game studios that boast engaging narratives, enjoyable playability, and stunning graphics.
Gaming is being enhanced by advanced blockchain solutions with the objective of strengthening the completion of the game and making it rewarding for every player. The developers of next-generation technology strive to provide gamers with a top-notch gaming experience to match each player's level of skill. Raising game mechanics is another example of how gaming on the Internet is evolving.
Although there are several existing challenges (e.g. scalability and financial design), the blockchain gaming industry is very well-positioned for growth and increased mainstream adoption in 2023.
Partner with Zeeve for the development of blockchain-integrated gaming
If you are looking to create an online game, then team up with Zeeve to leverage the benefits of blockchain technology in the gaming industry. Zeeve's experienced and passionate team will help you to easily manage all your blockchain-integrated games.
Zeeve is the perfect choice for managing your blockchain-based games. Our team of experienced developers have the expertise to seamlessly integrate blockchain technology with gaming. We have conducted extensive research into the gaming industry, so you can trust us to provide you with the best solutions. Connect with us on Twitter and Telegram to learn more about our services.