Move over play to earn blockchain games, the current trending topic that is quite the talk of the town is now the move to earn games powered by the revolutionary blockchain technology. The concept has become popular only in the recent months with several well-known projects coming up. They mix important elements of both the gaming finance (GameFi) along with the fitness apps to provide incentive to participants for exercising.
One of the rapidly growing segments of the third-generation Internet (Web3) is the "FitnessFi" concept that empowers participants to regulate and also make money out of their personal data. It is not surprising to see the gamification of exercises as there are several projects that had come in the past such as Pokemon Go and Wii Sports that are designed on players' movement. However, operating the move-to-earn cryptocurrency games on a blockchain lets users add non-fungible tokens (NFTs) as well as cryptocurrencies as monetary rewards. Given that the cryptos are involved in the move-to-earn blockchain games, players can now enjoy the chance to receive in-game currencies and have them exchanged for the fiat currencies. Thus the participation of the players in the move-to-earn games provides them with tangible rewards instead of having to make them pay to play games.
Gamification: financial value for participants
Gamification involves adding traditional game elements into non-traditional activities. They include rewards, points, and achievements to recognize action. We have seen this booming as technology has advanced, accompanied by the rise of video games. This tactic has been used across a variety of industries, including banking, self-help apps, and marketing strategies – research indicates that this approach has a direct influence on motivation and thus higher levels of engagement. With the addition of blockchain technology, the introduction of digital asset distribution programs can be revolutionary. The goal is to produce direct distribution of digital assets with financial value to users instead of things like vouchers or discounts.
Rewarding gamers with attractive financial incentives and using amazing game elements is extraordinarily effective, establishing the overall term GameFi. Entrepreneurs and organizations have already begun to see the emergence of the Play to Earn (P2E) economy, stemming from games. In seeing this logic with other games in mind, conventionally boring and unentertaining content such as activities could be adapted to reward physical activity. The Move-to-Earn game (M2E) is an approach in which new programs, like Genopets, STEPN, and WITUAL, maintain that logic in order to increase interest in active games. Hence, methods for delivering traditionally unentertaining content, such as exercising, may prove effective with projects like MOBEL, STEPN, and GAMEIFE. Move to earn was most recently coined for these frameworks that make gameplay more accessible by rewarding users with points for prolonged physical activities.
What is Move-to-Earn (M2E)?
The idea of gamification has been around for years and it's not a novel concept. Nintendo popularized motion-based mobile game titles through their Pokémon GO series, which recently launched with dedicated fitness controllers to help players find balance in physical activity without having any extra equipment needed outside what you'll have already handy at home! You can also look back as far as the Wii console where many people enjoyed playing sports games like "Wii Sports" on that system too – thanks entirely to M2E. M2E is reaching new heights with the introduction of sports as a form that can be monetized. Professional players are earning money through sponsorship, winning tournaments and so on- all because they're following their passion! Now you could even get paid for playing your favorite sport professionally too. If it's something which appeals to you then go ahead and start taking part in these exciting events today .
Businesses benefitting from M2E
The distinctive feature of getting into a healthy body is not just appealing to users who might require a little 'gamification push' but also a number of businesses that can take advantage from a more physically energetic community. The company AIA is creating an incentive program for its customers to be more physically active. The Vitality of the insurance provider offers rewards like vouchers that can help people redeem food or shopping trips when they reach certain milestones in their steps count, as well as reducing premiums if you meet higher levels on this path!
With the emergence of sports as a financial reward churning activity, M2E has been gaining popularity. Businesses can explore the rich financial rewards they can make out of providing professional players with a chance to participate in tournaments. In fact, it is not just businesses but professional players too can make huge gains through tournament wins, sponsorships mean while following their passion for their favorite sports.
A concrete example is Zombies, Run!, a mobile game that features a narrative-driven, movement-based, walking experience. Comparable games are Zombies, Run! and Zombies Run Rescue.
What's particularly noteworthy is that out of the 300,000 million users, 50% pay a subscription fee (roughly $40 per year). People are willing to pay to use an app that enables them to be more active, even if Nintendo isn't here with its Pikachu.
Overall, the essential parts of the M2E model have consistently proved beneficial to a healthy product fit and quality. The real question is how cryptocurrency projects can pave the way for an interconnected and robust ecosystem. We will look at three potential projects, Genopets, STEPN, and WHILTUEL.
How does the concept of move to earn (M2E) differ from play to earn (P2E)?
Play-to-earn (P2E) games allow users to earn points for their progress in the game, such as defeating opponents, reaching new levels, and exploring the play space. Move-to-earn apps use data provided by the user's mobile device, these devices can track their movements and reward them automatically for physical exercise.
Some M2E games are cost-free to play, whereas others necessitate a NFT to be purchased to begin. However, the spike in prices of NFTs and increasing value of it in games with increasing popularity, this can turn out to be a costly expenditure before the user may start seeing any returns.
M2E provides the financial incentives offered by blockchain-based rewards for a healthy lifestyle by enabling adoption in non-gaming areas. This has coincided with the growth of fitness trackers and wellness programmes that offer benefits to employees to work out. Fitness-based M2E can bring down the medical insurance premiums and also cut down the employee absences because of illness, which saves organization money. As a result, M2E can help an organization reduce health insurance costs and their employee absenteeism, thereby showcasing its potential to reach out to wider market than the P2E model.
Top move to-earn projects
An initiative based on the move-to-earn model – STEPN and Genopets were launched in 2021. It's not surprising that STEPN, GenPets, WITERAL, DEFY, and OliveX have since late 2021 joined the movement-to-earn creator model.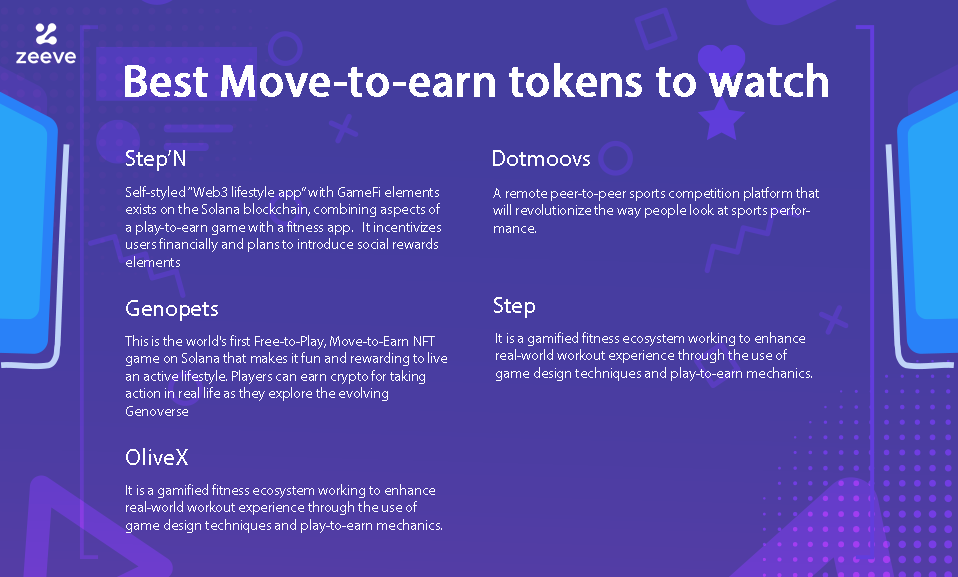 STEPN
The development of STEPN started in August 2021, with developers participating in the Solana Ignition Hackathon, which was held in August to October, and private beta testing happening in November. The public beta began in December. In January, STEPN secured seed-round funding through Sequoia Capital, Folius Ventures, Solana Capital, and Alameda Research, among others.
The STEPN computer game uses in-app purchases to acquire Move to Earn movement points that can be used to preserve athletes' motions without running an outdated wired gamepad. The game uses a dual cryptocurrency token system, with Green Satoshi Token (GST) as the in-game utility token and Green Metaverse Token (GMT) acting as the governance token for participating in the project's development.
StepN, a Web3-empowered app combining the socialFi elements along with the GameFi elements is a fascinating case in point. Users can get equipped with the NFT sneakers and spend time outdoors gaining NFTs and tokens. Unfortunately, many are expensive, but there are less expensive ways to enter. For example, NFT sneakers can be bought for free, with a portion of the profits going toward sharing a profit pool with multiple players.
The growing popularity of the move to earn crypto projects such as StepN as witnessed in recent times can be attributed to the NFT aspect. However, it is difficult to forecast for how long the popularity will soar high but the creators of this project – FindSatoshi Lab foresee immense potential and hold long-term goals.  The structure on which the in-game assets of the project relies- $GST and $GMT cater to different objectives. It's vital to pave the way forward for sustainability in context to the rewards, possibly an ambitious assignment for the move to earn crypto projects.
Genopets
Genopets is a virtual reality game that combines gameplay elements from the Tamagotchi digital pet and the Pokmon Go battle games with rewards for physical activity and socialization. The game attains popularity as the game is being customized and also upgraded while players move through the gaming metaverse. The game responds to information about a player's real-world physical activity from a mobile device or wearable fitness tracker to define their game progress within the digital world.
WIRTUAL
WIRTTUAL has been designed since 2019 and has been live in Malaysia since April 2020 as a trial platform to host virtual fitness events. The app's appeal caught the attention of event organizers in Thailand, who were seeking opportunities for companies like Mitsubishi Electric Thailand (6503) , Suntory (STBFY) PepsiCo (PEP) Thailand, NBA Sports Management (NBA), and Bosch Thailand (BOSH).
WIRTUAL launched version 2.0 in the first quarter of 2022 to include the link between cryptocurrency, NFT assets and fitness trackers such as Fitbit, Strava and Garmin. Users who track their physical activity with the app can earn rewards for submitting different types of data on their activity, with challenges focusing on running, walking, swimming, dancing, exercising and cycling.
By playing as a NFT avatar on a user-created server, you can get exclusive features such as limited-edition clothes and abilities. You can sell your characters in the NFT store for a profit.
Sweatcoin
Sweatcoin is an app that pays users for participating in physical activity. Unlike apps that use blockchain payments, Sweatcoin doesn't make use of cryptocurrencies. Rather, it pays users in sweatcoins- Sweatcoin's internal currency. Sweatcoin is unlike other exercise-earn apps in that users can earn sweatcoins without paying anything upfront.
On the other hand, users may choose to acquire premium membership, which lets them to escalate the number of sweatcoins they make each day and get entry into a premium marketplace. They pay $4.99 monthly for this.
Are Move-to-Earn Games Profitable?
The main idea behind people turning to move-to-earn games is clearly to make profits from their physical movement, exercises and active life. And it is observed that several users indeed do make a handsome profit out of it from their activities, the chances of turning these move-to-earn games are determined by a number of factors –
Initial investment: Most earnings apps require an initial purchase, usually in NFTs or a utility token. Rare NFTs and bigger token amounts usually provide higher move-to-earn rewards for the participants and boost the rate of return on their investments, meanwhile also bringing down the time it takes them to earn the investment returns.
Activity level: Since gains are strongly proportional to the amount of time spent on physical activity and exercise, those that are excessively energetic achieve success and make profits more readily.
Saturation: Most move-to-game incentive programs tend to distribute rewards proportionally to a user's participation, based on either his individual role or a fixed maximum pay out. The users' awards are generally divided into portions based on their performance relative to other users or according to a limit per user. The more users take part, the lower the awards for each user.
Price action: Application programs can be quite profitable or extremely unprofitable with eth price trend of the reward token having a significant impact on the profitability of the move-to-earn applications. Users should know that if a token's price action is strongly bearish, it'll be less profitable in the long run than a token with a strongly bullish price action.
It will be increasingly difficult to make profits in these zones as more people join in and the reward pools become increasingly spread out. Likewise, these apps are frequently vulnerable to manipulation, as it's easy to produce fraudulent inputs or manufacture fake exercise data via bots or physical devices to simulate activity. It is expected to be a significant challenge for most moving-to-earn apps to counter this, given that a considerable chunk of the rewards will likely be seized by dishonest participants.
The purchase price of holding large token holding balances or powerful networking technologies may rise if there are sustained increases in their popularity. If the demand continues to rise, so will the barriers to entry. In some cases, the price of acquiring a large token holding or powerful NFTs could increase the frequency with which profits are earned.
On average, most users may be able to earn a few dollars each day by casually participating in a program that rewards frequent contributions, while some users (e.g. those who are particularly energetic or have invested high NFTs) might be able to earn more. For example, STEPN accounts with uncommon level 30 NFT shoes can earn potentially hundreds of dollars' worth of GST each day; most users are able to earn tens or several dollars a day.
Conclusion
While many M2E apps are in the early stages of business, there's still much uncertainty over their long-term return on investment potential. There is a possibility of the novelty of these new kinds of apps fading, leaving coins significantly below their maximum market value. Initially, the growth potential of increasingly mobile M2E apps is undefined. There is a chance that once the initial wave of excitement in the technology sector will fade; the marketplace may overlook M2E coins, resulting in their value dropping substantially.
There are some key differentiating factors between the many M2E projects and the most relevant take-out is the feasibility and also the increasing attractiveness of the M2E model. With the emergence of the M2E games, the reputation associated with the video games are sure to see a healthy turnaround. So far, people thought of video games only as a wasteful, unproductive and a highly unhealthy activity. However, including the element of physical elements to games can prove to be a good image builder for games and can make it turn into a profitable product for the overall welfare of the society.  One can expect far wider user adoption of blockchain in the gaming segment with the increased popularity of the move to earn crypto games.
Zeeve
Zeeve is a leading blockchain as a service platform with enterprise grade deployment solutions and providing the finest management platform for your Blockchain networks and decentralized applications. It helps in deploying your production decentralized application or PoC in the fastest time possible.