2023 promises to be a thrilling year for web3 gaming, with a slew of innovative companies emerging on the scene. As the technology behind web3 gaming continues to evolve and new applications are developed, the potential for this sector is enormous. This blog will explore the top web3 gaming studios and companies of 2023, highlighting their unique offerings and discussing how they're making waves in this exciting new industry. From blockchains that enable in-game tokenization to gaming platforms that reward users for their gaming activities, these companies are at the forefront of the web3 gaming revolution. We'll discuss how these companies are creating immersive, engaging, and interactive experiences for players, and how they're leveraging the technology to revolutionize the gaming industry. With the dawn of a new era of gaming on the horizon, it's time to get familiar with the top web3 gaming studios and companies of 2023.
Dapper Labs
Founded in 2018, Dapper Labs is quickly becoming a leader in software development and blockchain-based solutions as they harness the potential of play to create blockchain-based experiences and digital collectibles that are tailored specifically to you and applicable to the real world. Their goal is to bring blockchain technology to the mainstream, and they have done this by creating innovative NFTs and games. Their main product, Dapper, provides a complete framework for developing Web3 applications on top of their native blockchain, Flow. For well-known sports brands like NBA Top Shot and All Day as well as well-liked blockchain-based games like CryptoKitties and Cheeze Wizards, Dapper Labs has produced NFT collections. Their mission is to bring blockchain technology to the mainstream, and Dapper Labs is well on their way to achieving that goal. They have the ability to entirely transform the way in which users engage and interact with the digital world with their cutting-edge goods and solutions. Dapper Labs has earned a distinguished place among the 50 most innovative companies in the world and has been named the No.1 gaming company of 2022.
Gala Games
Gala Games strives to design games that are free of the complexities of blockchain technology, so players can focus on having fun. We utilize blockchain technology in the background, so players can enjoy the advantages of the blockchain without having to worry about its intricacies. This way, everyone can join in on the fun and reap the benefits of blockchain technology without having to understand it. This top web3 gaming studio provides an array of blockchain-based play-to-earn crypto and NFT games across multiple genres. Utilizing the Ethereum network, the decentralized platform has over 16,000 players acting on the Gala nodes. Giving players the control they are due is Gala Games' vision. Decentralization will be used to do this, enabling players to control their in-game possessions and participate in the development of the Gala Games roadmap. Players and node owners will be given a voice, through distributed voting procedures, to help decide which games should be hosted by the decentralized Gala Games ecosystem, as well as what should be funded.Gala's native token GALA is used for in-game purchases and peer-to-peer trading, and also serves as a reward for in-game accomplishments. Popular titles like Townstar and VOX are available, with many more such as Mirandus, Legacy, Echoes of Empire and so on in the pipeline.
UFO Gaming
UFO Gaming is a revolutionary Web3 gaming firm founded by a group of experienced gaming and cryptocurrency aficionados with such games associated with its name that have an interplanetary theme and seeks to unite NFTs and DeFi components with captivating and immersive games. The majority of its games are on the Immutable X chain, thereby making the transactions effortless and having micro gas fees. Expert gaming professionals behind this web3 gaming studio are determined to bring the gaming industry to a whole new level by introducing blockchain technology. What makes UFO Gaming stand out? The games from this web3 gaming development company are designed with a distinct intergalactic atmosphere, where players can possess exclusive in-game assets. The decentralized Dark Metaverse gives gamers the opportunity to receive in-game revenue. Besides our internal team of developers, graphic designers, and experts, UFO Gaming is collaborating with some of the leading gaming companies all over the globe to deliver cutting-edge yet comprehensible gaming experiences to gamers everywhere.
Web3 Games
Web3Games is a comprehensive blockchain gaming ecosystem, with four core components: Portal, Protocol, Studios and Chain. Their mission is to aid traditional game developers in integrating their gaming products with blockchain technology, taking gaming assets decentralized and freely accessible, and returning digital ownership of in-game items to gamers. This top web3 development company designs games so as to empower game developers to create the best blockchain-based games for the community and hence has emerged as a gaming portal that encompasses all aspects of blockchain gaming, from a multi-chain launchpad that supports Ethereum, NEAR, Solana, Flow, and more, to a Token Swap and NFT marketplace specifically designed for the gaming market. Its team of game developers have a wealth of experience, having created games such as Call of Duty and Diablo, and are now developing play-to-earn blockchain games. Web3Games leverages Substrate-based blockchain technology to maximize efficiency and minimize transaction costs for NFTs and next-gen gaming experiences. Game developers can use this portal to launch their projects and host initial sales for gaming assets and also leverage a suite of services they provide such as development, blockchain integration, token economy, go-to-market strategy on the launchpad, and gaming token and NFT sales. By joining the Web3Games ecosystem, developers have the opportunity to transform their products into never-before-experienced gameplay and digital content, including blockchain gaming projects.
Nakamoto Games
In December 2020, Chawalit Rugsasri launched Nakamoto Games to create a play-to-earn system through hyper-casual games. This trailblazing play-to-win and metaverse platform provides users with a wide range of more than 160 blockchain games. It is a Polygon-based platform that offers both third-party titles and a wide variety of in-house games, including Night Warriors and Spooky games. In the blockchain gaming industry, Nakamoto Games Studio has blazed a route. It has reached the milestone of having more than 160 blockchain games, being the first to create a fully optimized mobile platform, and being the fastest to reach 400,000 users. Players can compete in tournaments, where they have a shot at winning rewards. Plus, independent game developers can upload their own games to the platform and receive royalties whenever gamers play them. The top web3 gaming studio is partnering with streamers who take delight in the games and features offered by it to reach out to a wider community. These streamers will be able to show viewers the excitement and fun of our large selection of gaming options, as well as the tournaments and social elements that come with them, thus demonstrating to non-crypto native gamers the wonders of Web3 gaming.
Immutable Studios
The Immutable Group was established in 2018 by James Ferguson, Robbie Ferguson, and Alex Connolly and has revolutionized the gaming industry through their innovative web3 and NFT technology. Based in Sydney, this team of over 300 experts in technology, creation, and innovation is backed by some of the most renowned transformative tech investors, such as BitKraft Ventures, King River Capital, AirTree, Temasek, Coinbase, and more.Immutable offers ImmutableX, a Layer 2 Ethereum scaling platform, in addition to the Immutable Games Studio, which created and published well-known games including Gods Unchained and Guild of Guardians. They are creating games that allow players to earn, trade, and own in-game assets that are truly theirs. Their mission is to provide generations of gamers with totally new, engaging, and meaningful gaming experiences powered by Immutable's game-changing web3 and NFT technology. Additionally, game publishers can take advantage of Immutable's decentralized asset integration with Apollo to reduce entry barriers and friction for developers. Immutable Studios is setting the standard for web3 gaming in the future by bridging the divide between the physical and digital worlds.
Horizon Blockchain Games Inc.
Horizon is revolutionizing the gaming industry by utilizing blockchain technology to bring a new level of engagement and trust to the gaming world. Their mission is to empower gamers with unprecedented control and ownership of their digital assets. With their innovative platform, gamers can trade digital assets, build their own game universes, and even earn money by playing games. Their objective is to make for users the process for the set up and launch of web3 applications and games a breeze. By leveraging the power of blockchain technology, Horizon is paving the way for a new, more secure and transparent future for gaming.
SkyWeaver is one of the popular and unique free-to-play blockchain trading card game from Horizon Blockchain Games Inc., where players can win, own, trade, sell and even gift their SkyWeaver cards. It is powered by the Sequence blockchain, and is designed to be both a fun and rewarding experience for gamers. The game is built around probably rare cards, each with their own unique attributes, stats and abilities. Users can collect, build and battle their decks against other players, and challenge them to win rewards. SkyWeaver also provides unique game modes that users can make the most of to enjoy and customize their experiences. With its decentralized nature and real-world rewards, SkyWeaver is ushering in a new era of gaming.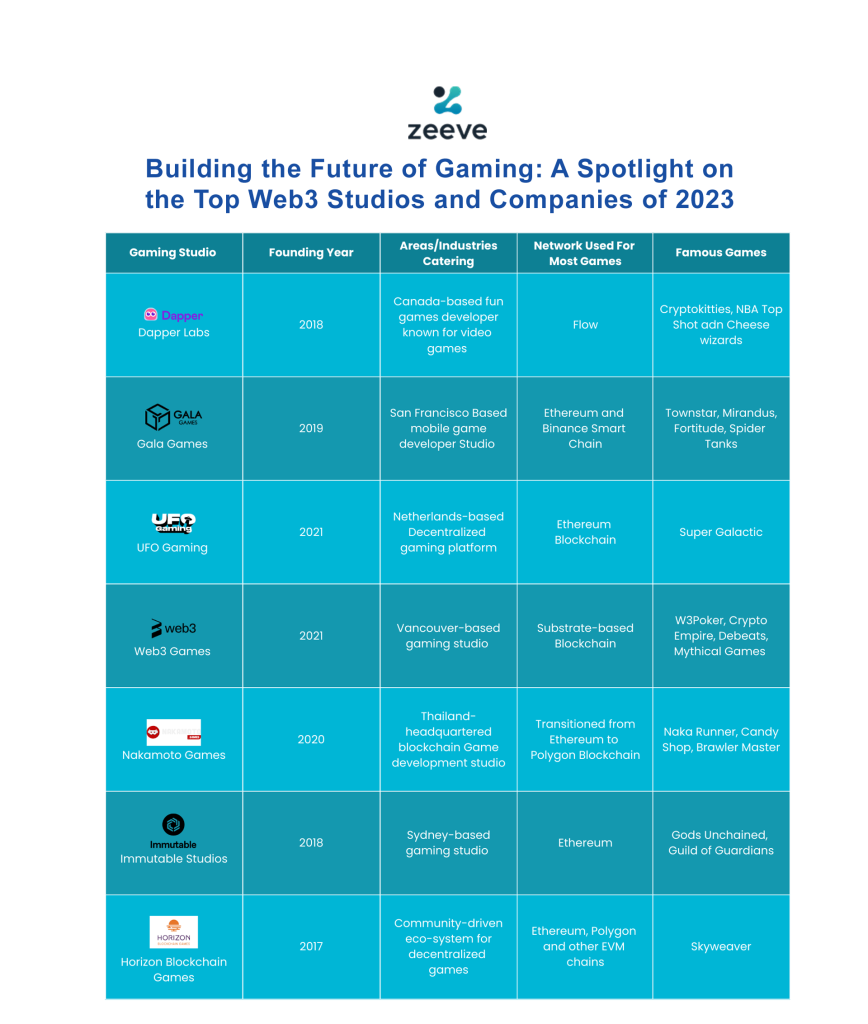 Final thoughts
2023 has been a great year for web3 gaming studios. With all the advances in technology, gaming developers have been able to create games that are both engaging and immersive. From the visually stunning graphics to the complex in-game mechanics, web3 gaming studios have provided gamers with a world of entertainment. The studios have also worked hard to make sure that the gaming experience is fair and secure, making games more enjoyable for everyone.
Overall, gaming studios have shown that they are willing to go the extra mile to ensure that gamers have the best possible experience. Keep an eye out for the top web3 gaming studios of 2023 and the exciting range of games in store for the gamers with high reward values. With the focus on innovation, gamers can expect more exciting and inventive games in the years to come.
Partner with Zeeve for Web3 Games
Are you considering owning custom blockchain networks for gaming? If so, Zeeve is the leading infrastructure automation and blockchain management platform for you. We have a clear mission to support the gaming and Web3 and blockchain-powered gaming economy, and we'll help you launch, scale and monitor nodes as well as manage the whole infrastructure of your platform. Our offering includes cross-cloud deployment subnet automation and an easy-to-use GUI Dashboard to manage and monitor the network. Furthermore, we provide Bring Your Own Cloud (BYOC) for a number of networks. Renowned organizations prefer Zeeve to automate their workflow and deploy, scale as well as monitor nodes through their premier Blockchain Infrastructure Management Platform, so why not join them and let us help your enterprise too?
At Zeeve, we understand the importance of creating a secure and safe environment for your gaming networks. We take all the required measures to ensure that our customers' networks are secure and safe from malicious attacks. Get in touch with us now to understand our offerings, our business model and how we can assist you launch your own gaming blockchain networks.