The NFTs shot into fame and acquired a great level of interest and attention from all corners in 2021. However, after the meteoric rise of Non Fungible Tokens (NFTs) in 2021, 2022 proved to be a drastically different year filled with market volatility. The first few months were rife with activity and enthusiasm as values skyrocketed, yet by summertime cryptocurrency prices had plummeted alongside NFT investments – leaving investors cautiously optimistic for what lies ahead beyond this tumultuous period.
In this article, we will take our readers through the roller coaster ride that NFTs experienced in the year gone by and trace the journey by highlighting the key milestones, achievements and challenges faced in this space. Also, we would take a sneak peek into what lies ahead in the space. Will the NFT marketplace be able to shake off its negative reputation and regain its momentum, or will it be just another passing trend?
NFTs more than just piece of art
NFTs (non-fungible tokens) are more than simply JPEGs on a blockchain. The NFTs being developed today are part of emerging digital entertainment content, and are creating new kinds of intellectual property, media franchises, music, limited-edition merchandise, movies and television shows, live events, and games.
NFTs that gained widespread recognition in the year 2021 also saw 2022 to be a year of exploration where NFT providers began experimenting with newer projects to examine the impact of the technology on its myriad applications. From explorations into new kinds of cover pictures (PFP) to making entries into music and metaverse entertainment, new enhancements continued throughout the year gone by and there were both success and failure stories.
NFTs facilitating increased adoption of cryptos and blockchain tech
The mainstream audience became acquainted with cryptographic technology thanks to NFTs, facilitating business experts's acceptance of crypto through the entire industry. By interacting with NFTs for the first time recently, these users gained knowledge of the blockchains behind the technology, e.g., Bitcoin, Ethereum, Solana, Polygon and Stacks, increasing the public's familiarity with crypto.
Global organizations acknowledging the power of NFTs
This year, some of the world's most iconic brands such as Starbucks and Nike have sought to capitalize on a new digital trend – NFTs (Non-Fungible Tokens). High-end fashion labels such as Gucci and Louis Vuitton have embraced the digital world in an effort to connect with their customers. It has become clear that just as social media revolutionized communication platforms over a decade ago, leading companies must keep up with emerging technologies or face the risk of being left behind.
By embracing the pioneering spirit of crypto, NFTs are revolutionizing monetization for creators and cutting out traditional middle-men. Creators now have two major paths to explore – they can launch brand new collections on their own terms or receive a steady income stream in royalties from subsequent sales.
NFT market overview
Data shows that the NFT bubble has indeed popped. In 2021, the NFT market experienced its initial hype cycle, with trading and asset prices peaking in the early months before dramatically dropping in 2022. By 2022, the market for these distinctive digital assets had seen a significant decline in nearly all metrics. Despite the efforts of tech corporations to bring digital collectibles to the mainstream, the value of NFTs has plummeted.
The NFT market has been struggling to recover since the summer, with the total market cap for the sector falling below $1 billion by December 2022. At the start of the year, the market cap of NFTs was an impressive $12 billion. However, this has since dropped significantly. This is likely due to a decrease in the number of active NFT wallets, which has consequently led to a decrease in trading volume on the OpenSea NFT marketplace.
As per NFTGo's data aggregation platform, the market capitalization of all collections listed on the site experienced a high of $35 billion in March and has since dropped by 40% to $21 billion.
OpenSea remains the most widely used NFT marketplace, with Blur – relatively new decentralized NFT marketplace securing the second spot. However, these platforms had to face competition that arose from newer marketplaces like LooksRare, Blur, X2Y2, and Magic Eden.
According to the NonFungible report, the NFT market saw a 47% decline in the first quarter of 2022, with a global volume of $8 billion. The second quarter of 2022 saw a further drop of 77%, with a total of $460 million in net profit. This was the first time in history that the NFT market recorded a quarterly loss of $450 million. Major auction houses such as Christie's, Sotheby's, Phillips, and Bonhams saw a drastic decrease in NFT sales, with a total of only $9.41 million in sales this year, compared to $153.5 million in the same period last year.
Despite much anticipation leading up to the launch, Coinbase NFT has failed to perform, as indicated by its lack of popularity. Coinbase hasn't been able to provide a distinctive or attractive product, and has omitted features that are usually expected from a centralized exchange, such as secure storage, fiat-currency onramps, gasless trading, and multi-chain support.
Brands Capitalize On NFT Projects
As the year progressed, the NFT market saw an influx of new users, with over 4.3 million new users joining the space due to Reddit's successful NFT project. This surge in activity led to a number of major brands, companies, and personalities launching their own collections and projects, with varying levels of success. In July, the social network opened its NFT marketplace, offering Polygon-based PFP avatars
In April, Nike officially launched its CryptoKicks NFT collection of virtual, officially licensed sneakers. The organization declared that they would be launching their .Swoosh platform in the beginning of 2023. The platform is intended to be Nike's hub and online marketplace for virtual apparel, such as t-shirts and sneakers, for avatars to use in decentralized online games.
In December, Starbucks launched its Odyssey program in beta for Starbucks Rewards members and partners. Built upon Web3 technology, the NFT (non-fungible token) program provides exclusive perks and experiences to Starbucks Rewards members.
In December, former U.S. President Donald Trump shifted his opinion on cryptocurrencies, launching his own Trump Digital Trading Cards NFT project. This marked a change from his prior stance of disapproval towards the digital currency. This collection, featuring 45,000 digital cards depicting Trump in a range of cartoonish characters, sold out in under 24 hours at the price of $99 each, generating $4.5 million for the creators. On OpenSea, the popularity collection rose to the top spot in terms of daily ETH transaction volume, getting close to 2,000 billion ETH (about $2.3 million).
Despite the success of many NFT collections brought forth by the hype generated in the space, there were a couple of failures too such as the Chris Brown's Breezyverse collection and WWE wrestler and actor John Cena's NFT Kit.
Other celebrities for whom NFT projects were successful this year included DJ Steve Aoki, rapper Snoop Dogg, celebrity Bill Murray, rock icon Ozzy Osbourne, and actor Johnny Dep.
Some remarkable NFT highlights 2022
In March of 2022, Mark Zuckerberg, CEO of Facebook-owned Meta, made a notable announcement at the SXSW festival in Austin, Texas. He proclaimed that Meta was striving to bring Non-Fungible Tokens (NFTs) to Instagram in the foreseeable future. This announcement was a bright spot in an otherwise tumultuous year for the NFT market, which saw a rollercoaster of ups and downs.
In August, Coinbase and Dapper Labs announced a partnership to create secure wallets for users to store funds from buying and selling digital assets. The wallets can be accessed on Instagram, facilitating users to quickly access their money. This collaboration will help to ensure that users have a safe and secure way to store their digital assets.
In July 2022, Reddit unveiled its Collectible Avatars, a new extension of its revamped Avatar Builder system. These limited-edition digital collectibles, created by independent artists, offer exclusive benefits to their owners. Reddit users can use their Avatars to receive "special treatment on their posts" and customize their wearables. The first 31 Collectible Avatar series sold out quickly. Reddit users bought avatars from the Reddit Collectible Avatars Shop using US dollars and stored them in digital wallets powered by Polygon.
In December, the NFT marketplace was given a pleasant surprise when Donald Trump's Digital Trading Card collection sold out and raised over $5 million. The collection, consisting of 45,000 Non-Fungible Tokens (NFTs) on the Polygon blockchain, was posted on the Truth Social platform with a price tag of $99 each. Despite being met with both praise and criticism, the NFTs sold out within 12 hours, according to OpenSea data.
Yuga Labs has been making waves in the Web3.0 space with its recent announcements. The business has recently made public its intentions for a virtual world, featuring the highly-awaited ApeCoin and Otherside, the virtual world initiative for the BAYC ecosystem. Since the launch of its NFT collection with an initial mint price of 0.08 ETH or $210, the company's value has skyrocketed to a current market valuation of $4 billion. With this, Yuga Labs is now a leading Web3.0 brand and is building a vibrant metaverse ecosystem. This study will analyze the repercussions of Yuga Labs' declarations from various perspectives and debate the implications for Web3 and the metaverse in the future.
Traders Pit Against Content Creators In Royalties Debate
This year saw a heated debate over creator royalties and whether market participants would uphold them. As blockchain protocols do not have the capability to enforce royalties, NFT marketplaces became the focus of enforcement. To remain competitive in terms of pricing and draw in purchasers and traders, marketplaces were given incentives to not charge royalty fees on transactions.
Sudoswap, an Ethereum-based decentralized NFT exchange, sparked a discussion about creator royalties when it launched its automated market maker. This market maker eliminated royalty payments on secondary transactions, challenging the traditional notion of such payments.
OpenSea has committed to aiding creators and ensuring they receive their deserved royalties. To do this, they have developed an on-chain royalty enforcement tool. This utility necessitates that collections refresh their smart agreements with a code fragment issued by OpenSea. However, this tool blocks any NFT marketplaces that offer no royalty or optional royalty fees, which is a hindrance to the idea of interoperability and composability with other marketplaces and applications.
The transition away from royalties has left NFT creators, collectors and advocates questioning how projects will fund themselves and motivate founders to remain engaged and dedicated. To make up for the loss of royalties, NFT projects may opt to use primary drops to generate revenue. Additionally, creators may offer additional services such as concerts, events, merchandise, and subscriptions for a fee. They may also restrict the commercial, copyright, trademark, and other intellectual property rights on NFTs that are sold in secondary markets without any payments.
The argument persists, and the market could experience further progress and a potential settlement by 2023.
Roadmap for 2023
Despite the possibility of value depreciation, NFTs remain a viable investment option. The possibilities of NFTs are seemingly endless, as new and innovative uses for them are being discovered on a daily basis. Being digital assets that are unique and cannot be exchanged for another asset of the same type, it makes them a valuable tool for a variety of applications.The NFT sector is just beginning to uncover the potential of this technology. From verifying the origin of goods and tracking supply chains, to preventing counterfeiting of luxury items, tokenizing ticketing for events, creating digital economies in the metaverse, using NFTs for gaming, music, and entertainment to generate revenue, and granting voting and governance rights, the possibilities are endless. As the market continues to develop, more applications of NFTs will be discovered and implemented.
It is projected that the NFT market size will experience a surge of up to $73 billion by 2028, which is a significant increase from the current figure of $15 billion in 2021, as per the estimations of 360 Research Reports. With the increasing shift to digital lifestyles, NFTs may be here to stay. As we look ahead to 2023, the NFT landscape is uncertain. While NFTs have seen a huge spike in popularity over the recent years, they have also met with criticism and skepticism. To ensure that the NFT marketplace maintains its momentum and continues to grow, it is essential that the industry works to address these issues and regain its credibility. This could involve improving the transparency of the market, providing better education and guidance to users, and ensuring that the technology is secure and reliable. With these measures in place, NFTs could remain a viable and popular asset class for years to come. When considering investing in NFTs, it is important to conduct thorough research and invest responsibly.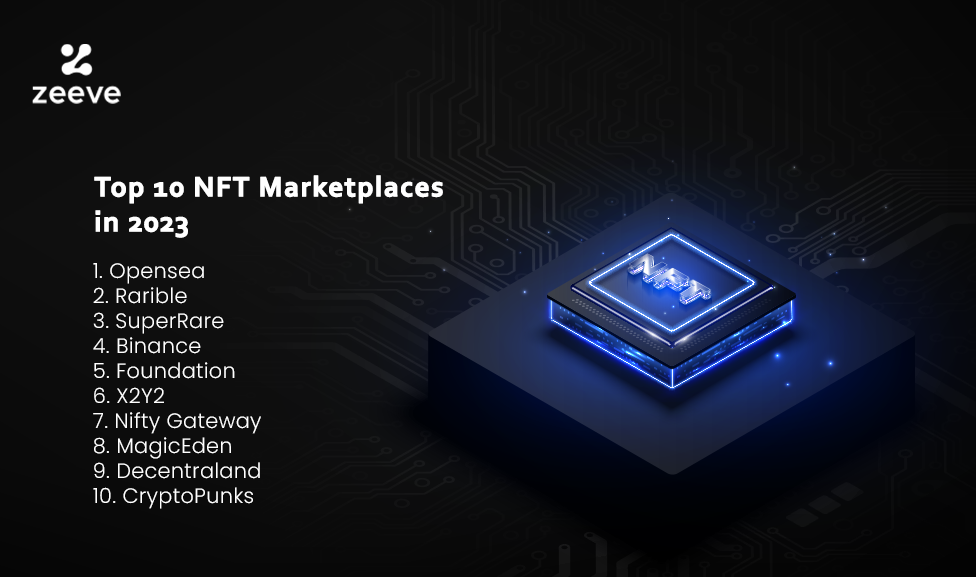 Partner with Zeeve
Zeeve is the premier blockchain infrastructure management platform. We provide enterprises and blockchain startups with the tools to construct, deploy, and manage their decentralized applications (dApps). Our platform is cloud-agnostic and supports multiple blockchain protocols with advanced analytics and monitoring of nodes and networks. We offer a comprehensive set of APIs to create dApps for a variety of use cases across industries, such as asset tokenization, NFTs, DEX, Stablecoins, and more. Zeeve also supports the Decentralized Finance (DeFi) space with decentralized storage, reliable nodes, and smart contracts.
Get in touch with us to kickstart your NFT dApp project with the help of our experienced team. To stay up-to-date with Zeeve, follow us on Twitter and Telegram.