Education institutes are making learning more immersive, and communicative. In the education system, we always think of different trial-and-error methods to impose the technology so that students can learn and grow with it. The pandemic became one of the reasons why we started thinking outside the box and taking a crucial step into it. 
Online lectures, classes, notes providing, submitting assessments, group projects, handling tests and exams – everything happens in a way that evolves students in a certain pattern.
Consequently, one of the great potentials we find in technology to connect with education is the Metaverse. The usage of the metaverse framework in education will be as a real-world setting. There will be a merge of avatars, NPCs and virtual learning resources to make the learning process more authentic.  
Metaverse and Future Learning
It is a new-age technology that defines the concept of virtual reality and augmented technology, that combines with blockchain, cryptocurrencies, and NFTs (Non-Fungible Tokens).
It's an online space that provides you to interact, live, work, shop, play, and do whatever you want like the real world. It's a platform that compliments the real world.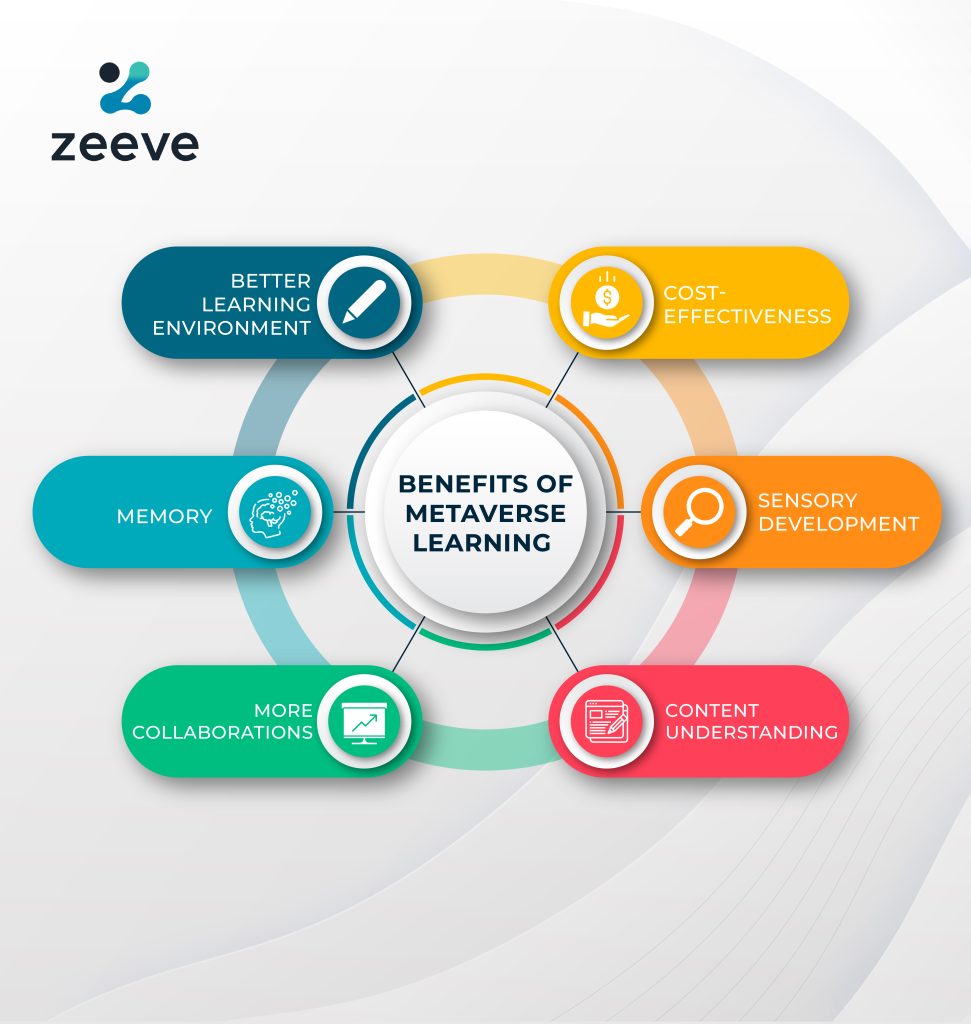 Future learning will be more blended learning, and the education will be inclusive. The breakthrough of AR and VR and given an introduction to a new generation of internet interaction, that is — Metaverse. The metaverse can be considered great for immersive learning because of its vividness in terms of content.
How is Metaverse Transforming the Education Sector?
Metaverse allows the Education industry to grow and evolve more strongly as it provides the space for the student to attend virtual classes, interact with each other, participates in different activities, and experience AI classrooms. But, Is the world really need this virtual pattern to study?
● Online education grew from 300,000 to 220 million viewers from 2011 to 2021.
● People are more likely to choose distance learning or online degree courses.
● Youtube free learning courses have increased the demand in the market since past two years
● Students are more interested in investing in online seminars, courses, tutors, and lectures.
● Platforms like Udemy, Coursera, Skillshare, Teachable, and many others are growing at a fast pace.
Some of the factors why the usage of the metaverse is important in the field of education:
Education is assessed by everyone
We all know how education is as important for the world but as in the traditional education system where we need to go to proper places to study at specific institutes or universities. On the other hand, Metaverse the new-age technology provides us a way to study from anywhere in the world, and still access all the lectures, notes, and other important course things. It facilitates you to study your language, understand the concept from different patterns, prepare for exams from different documentation, and other benefits.
Provide a Personalized Learning Experience
One of the biggest benefits Metaverse technology provides us is an individual and personal learning experience. It collects data to understand your pattern of learning and showcase the same path to you for better and clear understanding. It's real-time learning with the best classes and lectures.
Easy Information Gathering
Not only do we learn easily, but we also find different concepts easily with this new-age technology. As knowledge can easily be shared with people through learning in this way.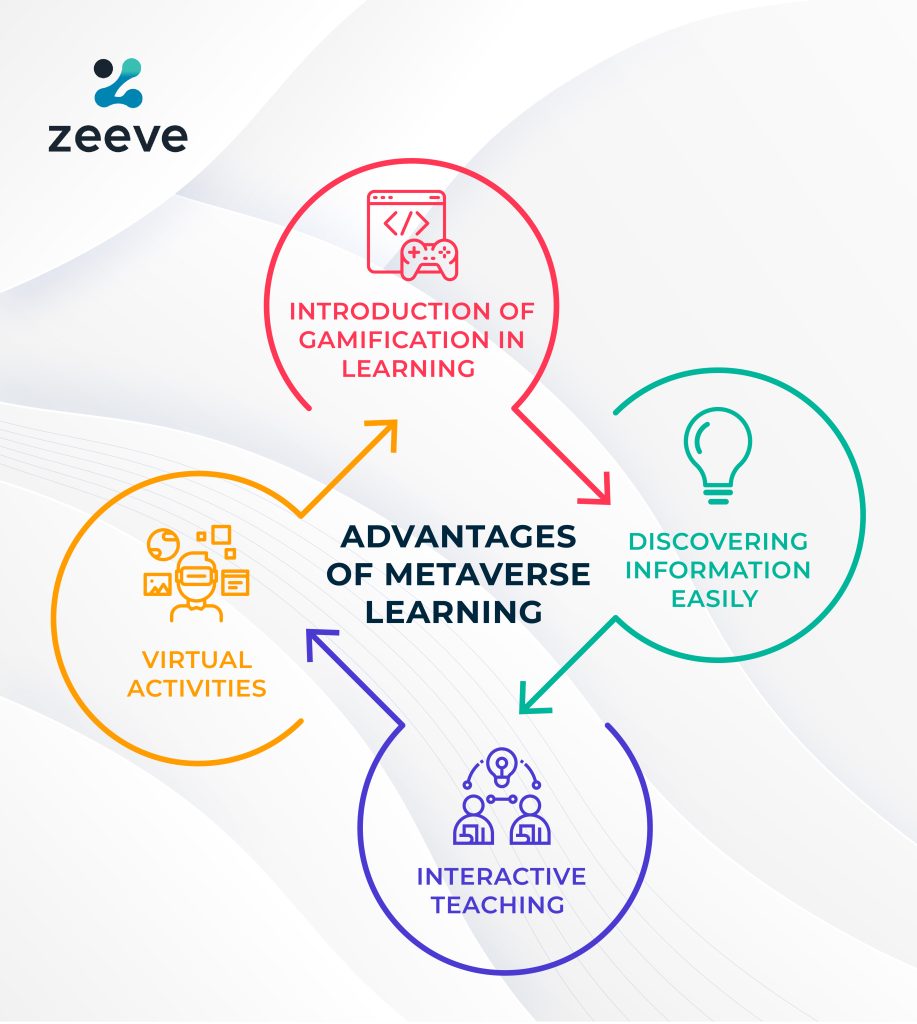 Enables Virtual Exams
It provides a real-looking space where you feel like giving a paper in an examination hall only. The exam papers are shared online and you can submit the answer sheet via different portals structured by the different institutes. These online examinations are prepared more securely and strongly, that provides a better way to arrange a questionnaire and set up the student results.
Administration Task Done Easy
Educators and administrators now can provide tasks to all in an easy manner as it is all done digitally, manage the attendance and other datasheets in an easy and computerized format, save lots of time in extra activities and use it in real teaching.
Improve Focus and Productivity
As all the tasks are easy on the hand, it improves the focus on a study where students and educators both interact with each other easily and clear their doubts and do general discussions regarding several topics. It also improves productivity as now a student can perform different activities and experiments without disturbing any real-world entity and also learn thoroughly.
Application of Metaverse in the Education Industry
The education industry is growing day by day, and as the eLearning platform increases – it shows that there is a need to take some crucial steps regarding learning platforms. What better step than emerging the next best technology in it? Metaverse can transform the whole education system in a better way, some of the applications we can use to do that are; 
1. Virtual Classroom Set-ups: with Metaverse, we can set up virtual classes anytime, anywhere, and anyone around the world can join it. It gives you a place to feel like a 3D classroom. With virtual classrooms, the student can prepare their virtual avatars and attend the class like a regular one. It's like a 3D environment of the real classrooms, all the lectures are given like a real teacher teaching in a classroom. 
2. Better ways of learning: with Metaverse, students can learn with different patterns and real-world identity objects. It helps students to understand the concept more clearly and gives them a better view to know the technical aspect of the concept. 
3. Help in Higher and Professional Courses: courses like medical, engineering, sports, agriculture, electronics computers, and many others. Using Metaverse in professional courses helps students to learn more practically and fundamentally core concepts. These higher-level concepts, conferences and lectures are also set up in such a way that provides a more core understanding of the course. 
4. Easy Interaction with Other Students: the next wonderful application we will get from Metaverse technology is to interact with someone as you do in the real world. As to create an environment more like a real classroom, the basic feature you will get is to interact with other classmates and teachers about your query and doubts regarding your subject. 
Is Metaverse really helpful in the Education Sector?
Metaverse is clearly on us, as more and more companies adopting it like Instagram, Facebook(called Meta), Shopify, Google and Microsoft. The world is emerging something new and something big from the foundation level. Yes, you read it right, Metaverse is at in foundation level right now – it needs a full decade to grow up and reach a level when we rely on it. As all the new eLearning platforms are developed with the help of Metaverse, construct that leads to better technology aspects. 
It shows that in the future, people will be more inclined towards learning rather than learning from a particular place or area. Metaverse is a clear future in the field of education, it gives us the space to study from anywhere from the best educators. Then also it said that virtual reality couldn't replace the real-world ways or their pattern of teaching.
We can say that the traditional method of teaching is slower than modern ways but still people enjoy learning in this pattern where they sit and enjoy with the other learners, the teacher teaching in a basic format and clear doubts in front of them. We hope that Metaverse also tries to fulfill all these things but till then enjoy our 2D space of learning with a foundation-level metaverse.
So What is the Future of Metaverse in the Education Sector?
The technology can potentially change the viewer aspect from the traditional method to the new-age method that clearly seems so high and wonderful. But we can't say much about it, as it is still new and exploring certain ways. The world of avatars and virtual systems flowing with us, can we all be okay to live like this? It's a debate topic, and we can't go inside it. 
The only thing that needs to understand right now, is if the technology is easy and simple to use and also helpful for people in a new way – then it's going to true future of our system. On the other hand, if it is hard to settle and use, more likely it going to fail. We all are excited about this new wave of learning patterns, and we clearly see some improvement in education via this mode. There are many more to come in this process and we are hoping for the best in every case.
Partner With Zeeve
We offer Metaverse development services to many industries across the world. We have till now worked with many influential blockchain startups, developers, and enterprises and would be delighted to work with you.
We have discussed in detail Metaverse and Web3 gaming on Youtube, you can check that as well to know more. Follow us on Twitter and join our interactive spaces. Know more about us through LinkedIn and Telegram. Feel free to connect with us directly if you have a project you need help with.