Recently Forbes named the metaverse one of the top ten trends everybody must be ready for in 2023. In fact recent data suggest that worldwide spends on the game-enhancing technologies such as the AR/VR – which have spearheaded the revolution in metaverse forming its foundation base – is most likely to hike up to $72.8 billion in 2024 from the current levels recorded in 2022 of $12 billion in 2020. Resultantly, innovation- harbingers and game-changers in the new web3 powered metaverse platforms, are working out strategies and deeply analyzing ways to position themselves as key components in this budding ecosystem. This also prompts enterprises and developers capitalizing on the trend of developing metaverse platforms to direct their efforts towards community-building so as to build long-term user retention in their metaverse.
The number of users on the platform isn't the only metric on which a metaverse platform can achieve grand success. It's also the number of communities that have a strong sense of belonging and shared values that will make them come back. Companies need to strategize community building efforts so as to become key players in this ever-evolving landscape.
Metaverse is already here!!!
To embrace true innovation, we must first recognize that our outlook needs to change. We can see that the metaverse is already here and flourishing. But what does it entail? What will it look like?
The metaverse is a rapidly growing virtual world that is becoming increasingly popular. It is a term used to describe a virtual world where people can interact with one another in a shared digital space. The future of technology is here, and the metaverse is ready to experience an unprecedented surge of growth. Far from a distant, dystopian world, this platform is already a reality. This concept has been around for decades, but has recently gained traction due to the rise of virtual reality and augmented reality technology.
Going by the recent survey figures and data records, more than 75% of the world population uses a mobile phone; more than five billion people have access to the internet, and above four billion are active social media users. This has enabled brands to enter the metaverse and create new digital experiences for consumers. Some businesses  are also conducting work remotely through platforms such as Zoom or Teams, shop online through Amazon or direct-to-consumer websites, and engage, share, and interact with customers through digital communities.
For example, Ikea Studio has been using augmented reality (AR) since 2018 to allow customers to visualize how furniture and other home décor would look in their own space. Sounds cool, right? Actually it is a great feature to have for furniture shoppers to analyze how their home will look aesthetically and also how best they would fit in their desired spaces once they purchase those wishlisted Amazon products. All thanks to Amazon's 'View In Your Room' tool for giving customers such powers to visualize the aesthetic beauty and also the space fit quotients. In fact beauty brand shoppers of luxury products from the house of Rimmel could also leverage the power of AR to help them virtually try on beauty products without even stepping out of their homes and making the purchase after analyzing how best these products will enhance their personality. Nike recently acquired RTFKT, which will allow them to produce digital collectibles and non-fungible tokens (NFTs), including digital sneakers.
As the metaverse continues to grow, it is essential to create a sense of community and connection among its users. Platform builders and metaverse stakeholders need to explore the various ways in which they can build community in the metaverse, from creating events and activities to establishing rules and guidelines. It is crucial for them to understand and discuss the importance of fostering a sense of trust and safety, and how to ensure that everyone feels welcome and accepted.
Brands leveraging community building in metaverse
The metaverse has seen tremendous growth in the last few years, with more and more people entering the virtual world. It's a world where people can immerse themselves in the virtual-reality and engage in a myriad range of activities, right from shopping to socializing to even gaming, playful work-related activities and more. It is an ever-evolving space, with new technologies and applications being developed to make the experience more immersive and engaging. One of the biggest drivers of growth in the metaverse has been the rise of virtual reality (VR) technology. VR headsets, such as the Oculus Rift and HTC Vive, have allowed users to explore the metaverse in a more immersive way. This has opened up new possibilities for people to interact with each other and experience the world in a more realistic way.
The metaverse is on the brink of unprecedented growth, with Bloomberg predicting it will capture $800 billion in market share by 2024. The high-growth market predictions are based on the fact that people are doubling their spending on integrating new technologies not only for the purpose of pushing their business revenue figures but at the same time also spreading social awareness, building  game-crazy fan followers, bringing on creators, and nurturing the new digital communities. Not only has there been no abatement of this trend, but notable companies are investing heavily in metaverse-wide technology. Meta Reality Labs has invested $10 billion, Nvidia has launched Omniverse technology for industries to create real-world simulations, and Sony has put forward $200 million to secure the rights to music and sounds for the metaverse. As brands and consumers anticipate what the metaverse will look like, it is already here. For instance, the metaverse is being used in virtual concerts, gaming, and even virtual real estate. Additionally, companies are using the metaverse for virtual conferences, virtual classrooms, and virtual trade shows. With these and other applications, the metaverse is already revolutionizing the way we interact and experience the world.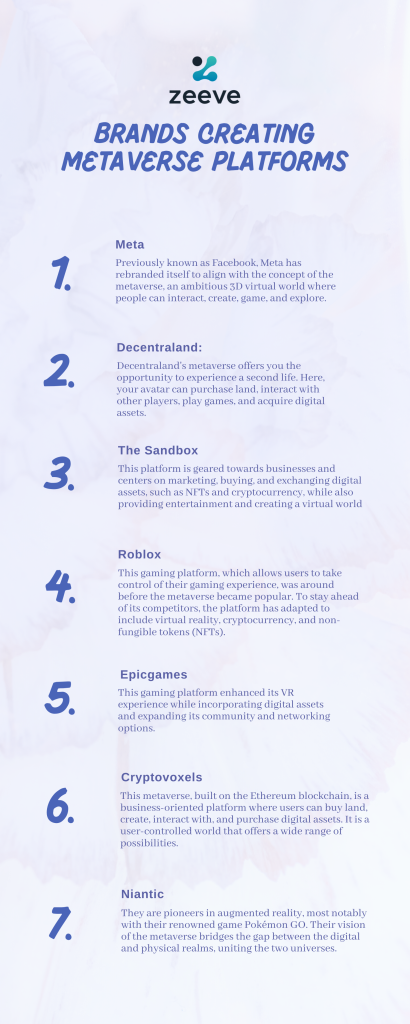 Benefits of Building Community in the Metaverse
Building community in the metaverse can offer a range of benefits to its users. From expanded opportunities for interaction to new possibilities for collaboration, the metaverse has limitless potential.
Increased social interactions and engagements: One of the primary benefits of building a community in the metaverse is increased social interaction. By connecting with others in the metaverse, users can form relationships with people from all over the world, creating a global network of friends and acquaintances. This can lead to a greater sense of belonging, as users can find people who share their interests and values. In a survey, it was found that 85% of respondents believe that the metaverse will have an effect on their job when it comes to collaboration, conferences, and team building.
Increased networking opportunities: Additionally, users can use the metaverse to organize events, such as virtual concerts or meetups, allowing them to connect with others in a more meaningful way. Another benefit of building a community in the metaverse is the potential for collaboration. By connecting with others, users can work together to create projects, share ideas, and develop new solutions. Those who are in creative professions may enjoy having their portfolios on the metaverse platforms due to their straightforward means for collaboration, engagement and also the ability to display their talent through their creative works. 
Bring lucrative opportunities for growth and learning: Additionally, the metaverse can be used to facilitate remote work, allowing users to work together on projects from different locations. Finally, building a community in the metaverse can provide users with new opportunities for learning and growth. By connecting with others, users can gain access to new knowledge and resources, as well as receive feedback and support from their peers. Folks looking to develop their skill set, hone their talents and nurture their creativity are sure to benefit immensely from these community building metaverse initiatives as they can also explore their interest levels.   
Strategies for Building Community in the Metaverse
After you have built a metaverse platform, it is also important to promote it. Don't let your new metaverse property remain a secret. Make sure to spread the word about who you are and what you do. Take action and make your brand known not just locally, but all around the world. But in case you are unaware of how to promote your newly developed metaverse platform and make yourself heard? Here are some effective strategies to help you stand out and get noticed. Utilize the power of one or more of these approaches to make your presence known and start conversations. Be open to engagement and business opportunities!
Promote metaverse on social media channels: Social media is a powerful tool for promoting any platform, including a metaverse platform. By devising a well-thought-out plan, you can extend your platform's reach and establish a powerful presence among a broad audience. Creating an interesting, informative, and engaging social media campaign that includes snappy posts as per the chosen social media platform and also video postings can help garner a lot of attention for the newly launched metaverse platform.#Hashtags are an excellent tool to boost visibility and engagement. Make use of the pertinent hashtags to ensure your content is seen by the appropriate audience.
Prepare the right messaging: Content is the key to success on social media.Your web pages should be full of accurate information, engaging, keep viewers hooked and make them wait for the next publication from your end, be entertaining, and be informative. For example, if you are using Twitter, you should create short posts that will capture the attention of your followers. Use of the right visual elements such as well-designed infographics, banner images, graphs, charts can go a long way in getting higher clicks and winning accolades for the clever visual representation of complex data in simple ways. Also, try out the effective channel of blog posting with comprehensive articles and expert blog columns posted at regular intervals on popular websites to build an active community for the metaverse platform. Blogging is a great way to reach a wide audience and build your platform's reputation and focus on topics that are relevant to your platform and provide value to your readers. Once you've posted your blog, be sure to engage with your readers. Respond to comments and questions, and encourage conversations. Often engaging with influencers, commenting on their thoughts, articles on trending topics help create a sense of familiarity and go a long way in developing professionally beneficial  relationships. Top influencers do interact and engage in healthy debates or discussions with their readers to win some brownie points and also inculcate a sense of community.
Leverage Influencers: with the creator economy booming, getting Influencers to promote your metaverse is a smart thing to do as young folks follow and imitate things said and done by the social media influencers. Reach out to your loyal customers and expand your user base by leveraging the best qualities of your preferred influencers. Chalk out a list of the best  influencers in your niche and engage in exciting business deals with them to ensure that your metaverse platform gets a good share of social media limelight. It is also not a bad thing to ask influencers to strategize their promotions in a way that you could get honest  feedback from their followers. identify influencers who have an audience that is relevant to your platform.  Once you have identified potential influencers, you should reach out to them and explain your platform and what you are looking for.  It is an effective way to reach out to more and more users, build community and also work in garnering enough support and good words for the new platform.  It is also important to track the performance of your influencer campaigns. The influencers' engagement statistics will give you information about who is creating the best content and engaging your audience the most receptively. Then, you can use this information to ensure that your influencer partnerships are bringing you the highest ROI. 
Hosting Events: Hosting events in the metaverse can be a great way to bring people together and create a sense of connection and community. Some important considerations to building community in the metaverse through event hosting is to first plan the type of event to host, planning for its promotions, planning the activities for it, and then executing it. Hosting events in the metaverse is all about building community. Ensure that all participants feel welcomed and included, and promote an environment of collaboration and cooperation. Stimulate discussion and interaction among all those involved. By creating a safe and welcoming environment, you can foster meaningful connections and build a strong community in the metaverse.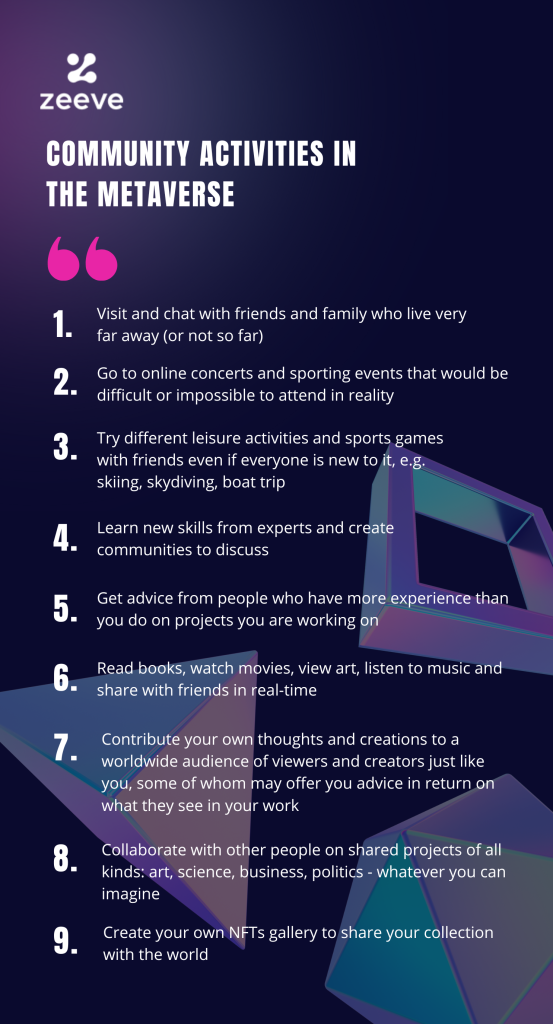 Final thoughts 
Building community in the metaverse platform is essential for its success. Data shows that users who are part of a community are more likely to stay engaged and active in the platform. By creating a sense of belonging and connection, users are more likely to feel comfortable and safe in the metaverse. This in turn leads to increased user engagement, which is essential for the platform's growth. Additionally, having a strong community can help to foster innovation and creativity, as users can share ideas and collaborate with each other. Ultimately, building a strong community in the metaverse platform is key to its success.
Join Hands with Zeeve for success in metaverse community building exercise
Zeeve – the leading RPC node provider and web3 infrastructure management platform has helped few companies in the metaverse space. The one notable example of a metaverse platform where Zeeve assisted in resolving major challenges of setting up an enterprise-grade network was seen in the case of its client – Tiluf, a decentralized AR-focused metaverse platform. Zeeve set up the necessary Hyperledger Besu nodes, Ethereum nodes with their tokenomics, and authenticated RPC endpoints so that developers could start deploying smart contracts and testing dApps. The Testnet topology was quickly established by Tiluf developers thanks to Zeeve's automated DevOps and network configurations. Furthermore, they were able to gain access to the Testnet API Endpoint in a short period of time.
After testing the network with all the dApps, Zeeve assisted Tiluf in replicating it into a production-grade topology. This was achieved by setting up nodes on a cloud account and then scaling it to multiple data centers on AWS, GCP, and DigitalOcean. In a short time, the Mainnnet was operational.
Setting up a production-grade network and swift, smooth functioning also helps metaverse platforms to focus more on building communities. To sum it up, smooth node deployment can help metaverse platforms focus on community building initiatives by allowing the platform to quickly and easily deploy nodes to support its network. This will allow the platform to quickly and easily scale its network to meet the needs of its growing user base. Additionally, it will reduce the time and resources needed to deploy new nodes, allowing the platform to focus more on initiatives that will help build and strengthen its community. This could include initiatives such as creating new content, hosting events, and engaging with users on social media. Smooth node deployment will also help the platform maintain a secure and reliable network, which is essential for any successful community-building initiative.
Connect with us on Twitter and Telegram to learn more about our services.