Launching a dedicated, custom-fit blockchain for operating a single Web3 project is currently a highly feasible scaling solution that developers and Web3 enterprises across the world prefer. Zeeve already predicted the surpassing popularity of custom blockchains, also widely known as appchains. Therefore, Zeeve announced the "AppChains" service offering earlier this year, enabling businesses to launch their own independent, tailor-made blockchains from scratch. With this value addition, Zeeve allows businesses to manage their large and complex dApp projects on an independent blockchain for higher scalability, sovereignty, and security. Through this article, we'll understand the importance of dedicated custom-fit blockchains and how Zeeve's custom blockchain development service is helping web3 businesses scale faster.
Why custom blockchain development is on the rise?
Custom blockchain development refers to creating application-specific blockchains to manage and scale a single blockchain solution. Each AppChain utilizes its separate virtual machine, smart contract, nodes, explorers, and wallets. This approach of appchain development keeps dApps away from competing with other dApps in the ecosystem to use blockchain-level resources; thus scalability improves naturally. Meanwhile, Appchains are capable of interoperating with other Appchains running parallel to each other. All these statements signify that custom blockchain development is ideal for enterprises running large dApp projects. However, if dApp size is small to average, businesses can run dApp on a shared ecosystem and leverage its security, tokenomics, and other resources. Building an independent custom dApps for such dApps doesn't make sense.

Zeeve offers services to all kinds of businesses, whether someone wants a custom blockchain development service or wants to deploy their solutions on existing blockchain ecosystems. Speaking about custom blockchains, Zeeve's custom blockchain development service enables businesses to launch independent blockchains for their dApps and scale endlessly with time. Want to read more about AppChains and its tremendous benefits for enterprises? Check out our detailed guide below:
Unlocking the Potential of AppChains: Understanding the Benefits for Enterprises
Zeeve's Custom blockchains: The ultimate solution to dApp scalability issues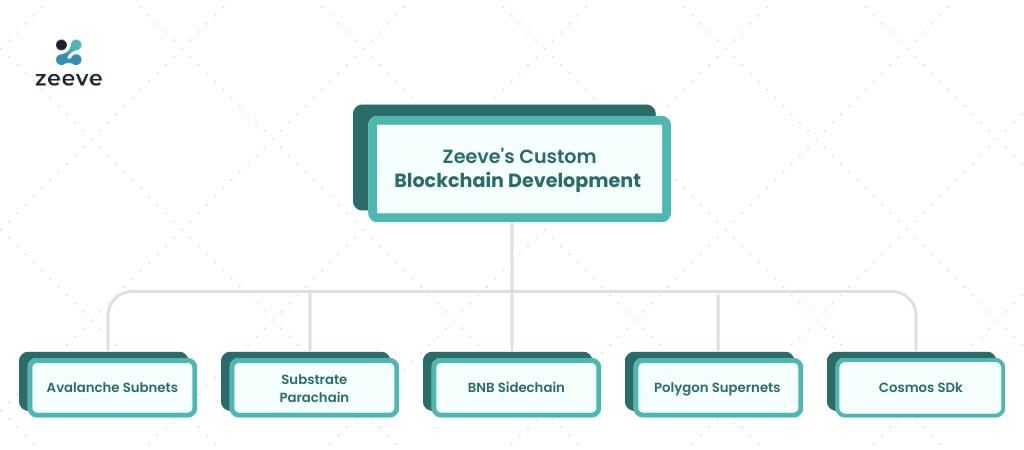 Custom blockchains provide decentralized solutions or dApps with increased flexibility, unbounded customization, and complete sovereignty over the underlying blockchain infrastructure. While this approach of launching a single-blockchain is a viable option to improve dApp's scalability and tackle security challenges, doing so seems a challenging task, especially for new developers and web3 startups.
For example, building a blockchain requires developers to bootstrap a reliable infrastructure for validators, RPC nodes, faucets, and more. Further, they need to ensure that their network always remains up without any performance-related issues. Accomplishing all these objectives is complex and, at the same time– an expensive deal. To provide a solution, Zeeve's offers custom blockchain development services, which simplify the blockchain deployment process with ready-to-deploy infrastructure, support to Subgraphs and Subquery, plug-n-play developer tools, and excellent customization support. Thereby, Zeeve saves considerable time for businesses, enabling them to quickly launch their custom blockchain for faster time-to-market while Zeeve does all the heavy lifting on their behalf.
Whether you want to build your dApp as a custom blockchain from scratch or migrate your dApp from a shared ecosystem to an independent blockchain, Zeeve offers support for all kinds of projects. As discussed, Zeeve provides highly optimized web3 infrastructure to manage all the components of your blockchain. In this regard, let's see what are the components a blockchain typically needs to run:
RPC nodes to query/write very specific data into the blockchain.
APIs to connect to RPC endpoints of desired blockchain protocols for multiple purposes such as data querying, retrieving, and exchanging data.
Block explorers to track, visualize, and review the network-level (on-chain) data and network transactions.
Web3 wallets to securely exchange and store cryptocurrencies and a range of digital assets like Non-fungible tokens (NFTs).
Decentralized bridges to facilitate the transfer of data, cryptos, and assets across different networks.
Testnet Faucets provide test tokens to the users, enabling them to experiment with the network's testnet.
Dev tools, SDKs, and frameworks to support easy development and innovation in the network ecosystem.
Managing all the above components is challenging for web3 developers as they have to take care of everything on their own. But, with Zeeve's custom blockchains, web3 developers can effortlessly launch their custom blockchain as we provide infrastructure to efficiently deploy and manage every single element listed above. Following is the list of main support and services Zeeve is offering for seamless custom blockchain development:
Support for multiple Appchain Frameworks:
Zeeve supports all the popular AppChain solutions— Substrate Parachains, Cosmos SDK, Polygon Supernets, Avalanche Subnets, and BNB Application Sidechains. Each of these ecosystems is unique in terms of providing customization, underlying security, the way it achieves consensus, etc. Based on the use-case specific needs of your blockchain, you can choose any of these to build your AppChain (custom blockchain). As required, you can customize the existing AppChain infrastructure, modify the security parameters, increase the TPS capacity, and even launch your custom gas token without hassle. To further ease the process, Zeeve allows you to access advanced plug-and-play dev tools and platforms for a quick and seamless deployment. Simply put, we put together everything you need for the production-grade deployment of your custom blockchain.
High-performance Nodes:
Though nodes are just one part of appchain deployments, they are important. Zeeve's low-code deployment platform allows you to deploy all kinds of nodes – Full, Archive, and validator nodes, with excellent load-balancing capabilities. Zeeve provides a wizard-based configuration panel for customization and flexibility, removing the pain of deploying and managing nodes. Hence, you can run as many nodes as required to support your blockchain network without having to worry about downtime. With our multi-cloud and multi-region support, we maintain excellent uptime of all nodes, leaving no space for potential downtime.
Also, Zeeve offers elastic APIs with the fastest response. Web3 projects can use Zeeve's APIs to fetch and utilize blockchain data without having to set up dedicated nodes. With APIs, you get access to RPC endpoints that are ideal for general-purpose RPC requests. Note that APIs are ideal for small projects as it is shared across multiple users, which is not a viable option if you frequently request data or make more resource-intensive RPC requests.
Data indexing protocols:
Zeeve cut down the significant cost of businesses for running their own data servers, building infrastructure for data indexing, or filtering the raw data. Zeeve's dedicated support for prominent data indexing protocols— The Graph Network and Subquery Network allows blockchain developers and web3 enterprises to launch custom, best-in-class Subgraphs and Subquery APIs easily. As needed, you can use Shared indexers and Dedicated indexers to match the data requirements of your application.
With Zeeve, you don't have to worry about infrastructure management of your Subgraphs or SubQuery APIs, as we take responsibility for maintaining high resilience and uptime. Our enterprise-grade infrastructure is optimized for unmatched network speed, availability, and effortless integration. With easy access to all kinds of data, you can keep your entire focus on building amazing dApps for users. Based on the enterprise-specific requirements, we are open to customizing Subgraph and SubQuery services to deliver specific data.
Migration assistance:
If you already use blockchain and want to migrate to AppChains, Zeeve can help you seamlessly migrate from a shared blockchain to a dedicated custom blockchain infrastructure. We have a team of blockchain consultants and DevOps engineers with hands-on experience migrating dApps to AppChain infrastructure. Rest assured, we ensure that your user experience on your dApp doesn't get affected due to infrastructure migration.
Flexible Cloud support:
Zeeve allows you to deploy your custom blockchain on any preferred cloud across 9 different cloud providers, including AWS, GCP, Digital Ocean, Tencent, and Azure. Businesses can choose to scale up with any of these cloud deployment options, which are supported for 150+ regions to ensure data compliances, low latency, and excellent performance of your blockchain network and solutions deployed on it.
Faucets, Explorers, and more:
Creating and operating a blockchain requires businesses to bootstrap infrastructure for nodes, explorers, staking interfaces, testnet faucets, wallets, and decentralized bridges. This whole procedure demands technical expertise and intense web3 knowledge, which is a barrier for most developers and enterprises. Zeeve's custom blockchain development service eliminates this issue by providing a reliable, enterprise-grade infrastructure to deploy and manage all these components, meanwhile ensuring high performance and resilience. Based on the blockchain ecosystem you choose, the experts at Zeeve will customize the infrastructure to suit your use case-specific requirements.
Monitoring and Alerts Dashboard:
To maintain the exceptional performance of any blockchain network, real-time monitoring of its various components is essential. The blockchain deployment and management platform offered by Zeeve is integrated with a graphical, real-time dashboard that proactively monitors the entire network on several parameters, such as the status of active nodes, aggregated disk usage, storage running out, downtime, and all the activity logs. The comprehensive dashboard produces graphical data and stats, making it easy to understand for everyone, both technical and non-tech individuals. With very precise data, enterprises can fix the issues on time and thus ensure high performance of their network and dApp.
Ready to take action?
Now that we have understood the usefulness of custom blockchains and Zeeve's support for custom blockchain development services, it's time for you to take the desired action. Learning about the enormous benefits of AppChains— performance capacity, throughout, and ultra-fast transactions cannot benefit you unless you implement it for your dApps. Like, if you feel that your dApp needs to be more scalable or you are thinking of moving to the web3 ecosystem, the experts at Zeeve will address all your concerns. Also, businesses that are already running their dApp on any AppChain ecosystem but want to migrate to another AppChain can complete the migration process with Zeeve without making any significant changes in the existing infrastructure. For more information on Zeeve's assistance for custom blockchain development, talk to our web3 experts via a one-to-one call or join our online channels to be a part of active community-level discussions.