By 2030, the global GDP will get a major push from blockchains, which shall add $1.5 trillion to it, thereby opening the door for deeper adoption at the enterprise level in the near future.
But in the absence of long strides in terms of adopting innovation and colossal failures of stalwarts like  IBM & MAERSK's TradeLens at the backdrop, top C-level executives still remain doubtful about adopting enterprise blockchain solutions despite its ability to create new revenue streams in respective industries. 
What's their biggest concern?
New technologies have a slower learning curve in comparison to their predecessors because of limited battle-tested environments where organizations could easily put their boots on the ground. Corporate decision-makers have the same concern when they do not have adequate intel, lack of resources, and technology gaps. HFS Research has weighed in the same lines.
When research was conducted based on the above challenges that CEOs & CTOs face based on the above situation, it was found that there lies a 60:30:10 ratio dilemma where enterprises have concerns about building everything from the ground up.
Blockchains have been falling in the same category because the development costs are 30% to 40% higher in comparison to existing technologies. Hence, they create a real scarcity of smart and efficient developers. A monolithic approach to development where enterprises can move ahead with existing technologies and build solutions on top of their existing infrastructure may create more room for innovation and adoption.  
The Search for an Easy Way Forward
When in 1963, DARPA presented MIT with a $2 million significantly mammoth investment, equating inflation and monetary value back then, the project aimed at simplifying data sharing between nodes or computers, which eventually came to be known as cloud computing. 
At the time of writing, the global public cloud services, as per Gartner, have reached $214 billion, and much of that has been attributable to the simplicity introduced by big techs like AWS, Microsoft, OpenStack, IBM, Apple, Oracle, and others to assimilate and adopt these solutions. 
These companies sensed that the cloud would be the next paradigm where the business would eventually look forward to managed services, and over the period, such trends started to surface as more than  73% of the enterprises vouched in favor of cloud-based services because they were easy to deploy, cost-effective to manage and efficient when it came to simplifying operations. 
However, the same narrative is yet to mature when you speak of enterprise blockchain solutions. For example, when APCQ, a  process-improvement and benchmarking association, conducted a survey, it was unveiled that the total number of developers and support required for keeping enterprise blockchain solutions up and running is severely outnumbered. 
At the same time, the rate of adoption does not measure at par with the number of developers required to keep projects up and running. For example, the number of developers who are active in space hasn't been growing at astronomical levels. In 2022, it was seen that only 5% growth was seen in the total number of developers, which stood at 23,343. When you juxtapose the same with the total number of other software developers, it stood at 26.9 million software developers.
These numbers are quite low when looking at the adoption level to touch new heights and end up as being mainstream.
B-a-a-S: To The Rescue To Deal With Deployment
Imagine you are engaged in a supply chain business where you have to deal with daily invoicing, conducting business operations, managing the stocks, manufacturing, and other things to keep the business aloft.
However, despite doing this, you evidently feel that the business is not performing to its true potential because of a lag in the business process and not in the competition or industry itself.
For that reason, you wish to deploy a solution that remains transparent, efficient, and cost-effective at the same time. With that being said, deploying a blockchain infrastructure makes a lot of sense.
However, when you speak of the deployment process from base-level set-ups to installing different layers mandatory for operations like DevOPS, cloud-based setups, and others, it completely drives away the inclination to simplify your operations.
Why?
Because much of the business time will be spent on managing the infrastructure.
An average of 4 to 7 months is required for hosting a fully up-and-running enterprise-grade Blockchain network infrastructure. Now, when you have your own business to manage, spending that amount of time might adversely impact your business growth. 
That's the reason tech giants like Google and Alphabets are betting so high on B-a-a-S. Recently, Google has invested $1.5 billion towards developing cutting-edge blockchain infrastructure to support enterprises' Web 3.0 goals. 
However, one clear crisis in the making is a monolithic approach to development. Most of the existing enterprise blockchain solutions demand a completely new setup to host and run the Blockchain nodes and networks. On the contrary, enterprises that have already spent millions of dollars on their existing cloud-based systems, servers, set-ups, and other things wish to get accommodative with the new technology.
A perfect amalgamation of the existing infrastructure with new technology would give them more room to innovate and adapt to the changing trends. One of the primary reasons for the failure of TradeLens was its monolithic approach to driving adoption forward. When enterprise blockchain solutions can provide the same, true adoption will follow.
True Adoption Sounds Like This: Commercially Viable Approach
The efficacy of enterprise blockchain solutions will start to surface when deployment doesn't altogether sound like another rocket science to enterprises. For example, when we are speaking of mass adoption, wouldn't that make sense when enterprises can bring their own clouds and deploy blockchain nodes and networks?
Reports highlight that enterprises are more likely to respond to integrating blockchains if they can use their existing infrastructure. Such advantages not only mitigate their risk factors but also encourage them to undertake new technologies and innovations in their modus operandi. 
What I personally think is that blockchain is rather new and awaiting adoption and implementation with a clear risk-assessed vision.
Here are the leading Platforms offering Enterprise Blockchain solutions: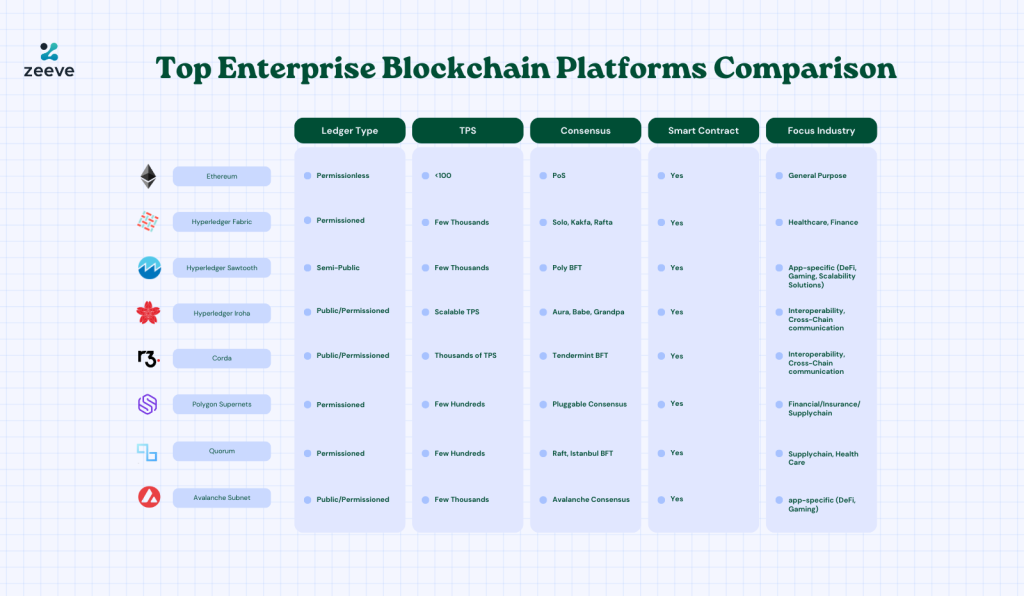 Zeeve, for simplifying your blockchain infrastructure
Digital transformation is inevitable, but what's more striking to note here is that digital transformation should come not at the cost of your convenience but with the ability to bring about a positive change.
Managing so many layers of infrastructure is hard. At Zeeve, we cut down your deployment time by 97% and ensure faster time to market, removing the infrastructure burden from you. Here you start building from the Zeeve layer instead of starting from scratch.
Here is what you avoid building on Zeeve: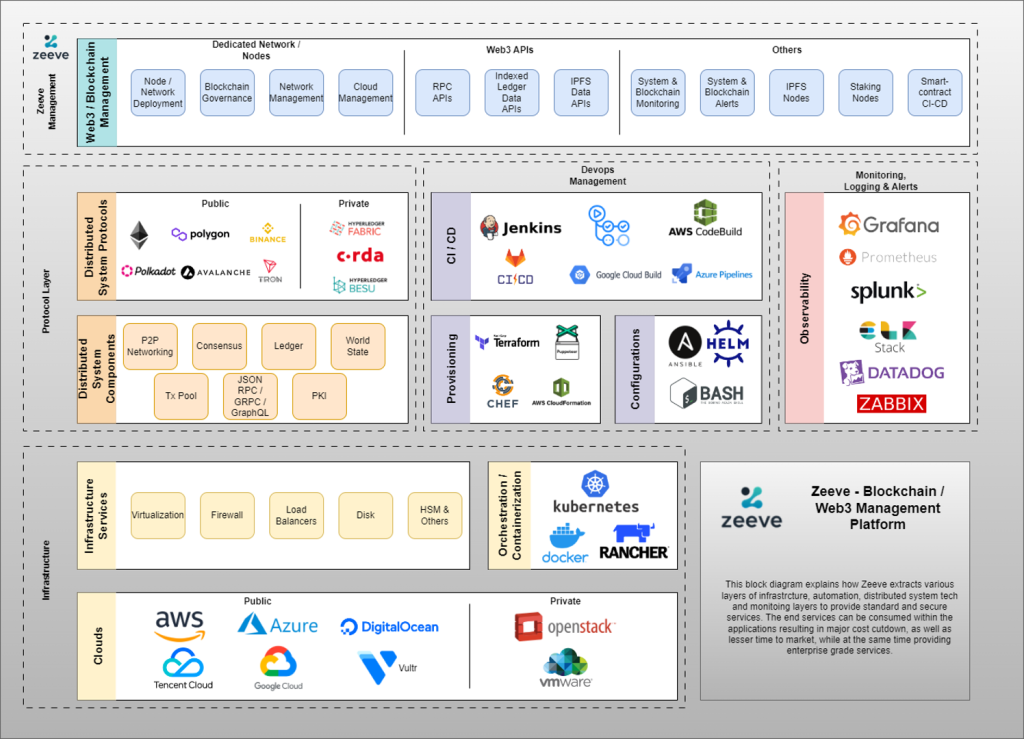 Zeeve has been committed to providing the Plug-and-play one-click deployment through its node hosting services, where you can easily use your existing infrastructure to host your blockchain vision in your business.
Blockchain technology is here to stay, and only the best shall fall into places where the advantages outweigh the risks and pave the way for a better, innovative future ahead.