Blockchain technology has scaled to a massive extent in the last decade. It represents a paradigm shift in how various companies protect their essential data. Every industry is pouring billions of dollars to reap the benefits of blockchain technology.
Generally, blockchain technology protects information and plays a vital role in helping prevent fraud. Whether designing, writing, or any media-related work, blockchain helps protect your intellectual property rights from people performing unethical practices. It diligently addresses the intellectual property challenges so that you possess rights to what you create!
Before learning how blockchain technology protects your intellectual property, let's find out why it is essential to protect intellectual property.
Why is it essential to protect intellectual property rights?
The most effective function distinguishing humans from other species existing on Earth is the ability to think. Humans can think, analyze, and act appropriately for performing a specific task. Imagine a situation where you put hundreds of hours to work, spending numerous sleepless nights only to find out someone else takes credit for your efforts. How would you feel?
It would be outrageous for you to see your creation getting into someone else's hands. Consider another situation where if someone tries to make a copyright or IP claim, you would have to spend much of your time in court to take possession.
Blockchain technology helps curb such practices by eliminating intermediaries from the picture and providing a medium to store your intellectual property safely.
How can blockchain protect intellectual property?
Blockchain technology has decentralization as one of the critical properties for safely keeping digital records. Immutability is another property that provides a history of ownership that no one can tamper with.
As no one can play with your data, the intellectual property owner can prevent another person from claiming ownership of the information. Smart contracts add a security layer to provide licenses or obtain royalties. Also, you can implement blockchain with the IoT (Internet of Things) to ensure user data is protected.
However, you must retain professional counsel trained in intellectual property law if you plan to store your intellectual property data using blockchain. The lawyer can discuss options for protecting your creations best, and the council shall guide you if someone attempts to infringe on your work.
How to implement blockchain technology to protect intellectual property?
Blockchain technology comprises blocks that store data. It acts as a tamper-proof chain that we cannot alter as the data changes will change the hash value of that particular block. We can quickly identify the wrong entry as the next block would still retain the original hash value. Hence, it is used for copyright ownership.
A person can only do the altercations in the block when they can edit every block on the chain with the new corresponding hash values. However, it would require a lot of computing power that a person wouldn't have access to. Additionally, blockchain helps retain ownership by storing the original copyright data in the block's data. It can help to prove your ownership if someone contests your copyright ownership.
During the litigation process, the blockchain's ability to trace the ownership will save the owner abundant resources and time. We can further use it to store original works or show the date for patent filing. Blockchain also helps build credibility for the intellectual property as the records are present internationally.
Role of smart contracts in IP protection
Smart contracts are pieces of code that execute automatically after meeting certain conditions. These contracts do not require central authority and bind parties together securely. Smart contracts increase security and remove intermediaries from the picture.
Since you do not have to travel anywhere to transfer intellectual property rights physically, you will witness less complexity and would save ample time. Smart contracts can help enforce and establish legal rights such as licenses. They can also be handy in enforcing copyrights for protected content such as artwork, songs, images, etc.
Blockchain can leverage smart contracts' features to facilitate IP works licensing. It helps to reduce the cost of transactions and creates a direct link between inventors and users. Smart contracts facilitate real-time payment transmission to lawful IP owners, thus bringing more transparency to the IP world.
For example, Kodak has recently launched Kodakone, an image rights management platform based on blockchain and a post-licensing tool for photographers.
Better Governance
Blockchain tackles the issue of bad governance by offering a unified platform agreeable to everyone. It will essentially change the landscape of the patent industry forever by escalating the process of receiving a patent.
Equality for Small Organizations
Blockchain technology makes the process seamless; anyone can get a patent on the internet. Hence, the process is feasible for entrepreneurs to obtain the IP efficient settlement.
Application of blockchain in intellectual property (IP)
Blockchain has numerous characteristics that account for data security and has a remarkable impact in the field of Intellectual property. Since we are unknown to the true potential of blockchain, we could also witness use-cases other than those listed below shortly.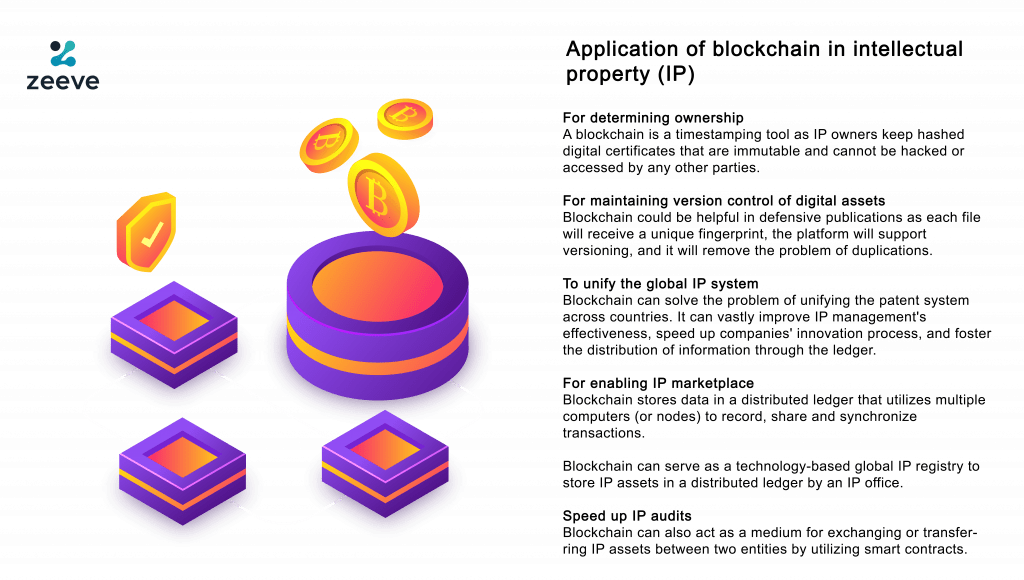 For determining ownership
Blockchain technology acts as a trusted platform to verify the authenticity of ownership. The traditional method of filing a patent by visiting a patent office to secure the IP is prone to innumerable problems. It will be problematic for a person to prove the ownership of creative content.
A blockchain is a timestamping tool as IP owners keep hashed digital certificates that are immutable and cannot be hacked or accessed by any other parties. It also helps distinguish counterfeit goods from genuine products by checking the digital ledger for relative ownership of the products. Blockchain also acts as an authentication tool to validate the integrity of intellectual assets that infringe any previous product or IP.
For maintaining version control of digital assets
As digital assets have multiple versions during their lifetime, it is essential to link various versions of digital assets during their lifecycle. We can use blockchain technology where one can link all the versions of their digital assets and use them for end-to-end lifecycle maintenance.
Blockchain could be helpful in defensive publications as each file will receive a unique fingerprint, the platform will support versioning, and it will remove the duplications. Simultaneously, each network node can choose which content it is hosting and whether the database is indexed and searchable.
To unify the global IP system
Blockchain can solve the problem of unifying the patent system across countries. It can vastly improve IP management's effectiveness, speed up companies' innovation process, and foster the distribution of information through the ledger. Even in India, for enforcement and jurisdiction in transactions over a blockchain network, Section 65B (Admissibility of electronic records) of the Indian Evidence Act, 1872 may be vital.
For enabling IP marketplace
Blockchain stores data in a distributed ledger that utilizes multiple computers (or nodes) to record, share and synchronize transactions. We can use it as a potential platform where inventors can place their inventions/digital works in the form of ledgers with short descriptions, thereby acting as an IP marketplace.
Blockchain can serve as a technology-based global IP registry to store IP assets in a distributed ledger by an IP office. It can speed up IP audits and maintain due diligence in IP transactions. Blockchain can also act as a medium for exchanging or transferring IP assets between two entities by utilizing smart contracts. It can also be an authentication system for sharing or exchanging intellectual assets.
We could use cryptocurrencies to secure payment methods for transferring or exchanging digital assets. It would remove the current vulnerabilities of physical currency, such as security and lack of valid proof of transaction.
Limitations of blockchain technology in IP rights
Blockchain technology can assist with creating a register of unregistered IP rights. They can provide evidence of the time of creation, rights management information, and jurisdictional requirements. In short, it is essential to choose the design as anyone could upload rights management data to a blockchain-based registry. Hence, it would be helpful if an authoritative and trusted third party was involved.
The right holders can be account holders, i.e., the registry would not just record but also facilitate the transaction of IP rights. It would require several right owners to use a blockchain-based copyright management system to cover a sufficient amount of copyrighted works.
The authenticity of information is another issue on a blockchain. As blockchains are append-only ledgers, we can change information only in exceptional circumstances. Imagine if someone enters the data incorrectly, there will be nothing one can do without appropriate technical and governance processes and systems in place to remedy the situation.
Now we can understand one more issue with an example. For instance, consider a situation where you have an on-chain token that represents an off-chain good. It is essential to ensure that anything that happens to the off-chain goods gets in the digital ledger. Without appropriate human coordination, a blockchain-based system may have the opposite effect.
Conclusion
Blockchain technology is advancing as industries are using it outside the domain of cryptocurrency. It provides a secure option for storing valuable intellectual property data for works such as copyright and patents. Smart contracts and IoT are an added advantage to boost overall security. However, as industries continue to rely on blockchain technology, IP law will have to address relevant legal issues in authentication and verification. Blockchain can potentially streamline future IP transactions in copyright, trademark, and patent areas.
Zeeve will be your one-stop destination for blockchain solutions as it has a team of experts who understand blockchain's role in intellectual property management. We are a leading blockchain infrastructure company and have helped many Web 3.0 startups and established businesses develop, deploy, and manage DApps and blockchain networks. Get in touch with our team to know more about our node hosting services, infrastructure management and learn how we can help you protect your intellectual property rights.