The global marketplace is about to undergo a sea of changes. Currently, decentralization is being adopted at a faster pace by all industries. The adoption of blockchain has given a cryptographically secured system where the information cannot be tampered with. While blockchain technology is still in development, there are many adoption challenges that are yet to be resolved.
The problem of mass adoption of blockchain and Web3 is a highly pertinent problem, and in fact, scalability remains one of the bottlenecks towards its implementation. One potential solution to this problem is Supernets. In this blog guide, we will delve deeper into Supernets – Polygon supernets that serve as a type of network using blockchain technology to allow for more efficient communication between nodes.
In simple terms, a Supernets refers to an application specific chain that operates on the Polygon Edge consensus client with PolyBFT consensus, in bridge mode (and utilizes the transaction relayer), with a stake on the associated rootchain (i.e. PoS mainnet), and employs the on-chain governance mechanism.
Polygon Supernets are industry-leading technology that allows us to build and power the appchain. The EVM technology powers it and has end-to-end support from all its implementation partners. It extends the POS Mainnet and supports POS Side-Chain with MATIC staked.
The best part about working on Supernets and its implementation partner is that it supports one-click deployment to bootstrap the appchain. In this blog, we will know in detail about the Polygon Supernets and its features. Further, we will see what Zeeve, as an implementation partner offers and the major industries partnering with Polygon Supernets.
Introduction to Polygon Supernets
Now creating high-performing, customizable appchains is easy with Polygon Supernets as the network is more robust. On the network, major developments are continuously being made. The Polygon Supernets (version 0.7+) ecosystem provides a pool of indexers, oracles, and explorers for building and deploying apps.
Supernets can accommodate more data storage, processing power and transactions. This happens due to the usage of a combination of scaling solutions. These solutions include layer-2 scaling techniques, parallelization, and, eventually, ZK technology. 
The Supernets is an appspecific chain that operates on the Edge consensus client PolyBFT consensus. Some of the existing features on the Polygon Supernets are:
The Polygon Supernets are doing a commendable job in empowering enterprise-grade projects. The appchains are in themselves great for enterprises. It provides enterprises with performance, autonomy, and scalability.
There is a modular framework that simplifies the blockchain development process of blockchain implementation.
Developers can now use Supernets to create many high-performance networks. Developers get the option to make tailor-made blockchain networks as there is a provision of customizable virtual machines.
There is on-chain governance which makes the network community-driven.
Features of Polygon Supernets
Some of the features of Polygon Supernets that make it stand out in the crowd of other blockchain protocols are:
Customizable
The Polygon Supernets extends on the Proof of Scale mainnet. It supports the PoS side chain alongside MATIC staked. The company will add more in the future, such as validium rollup along with a zero zkEVM integration. Moreover, customization can also be done for transaction fees and gas tokens.
EVM Compatibility
It is interoperable with the PoS chain with the native bridge. The main focus is on flexibility, adaptability, and the streamlined development process. There is fine-tuning of the network performance as the programming language happens to be familiar.
Good throughput
With the Supernets, the blockspace will be dedicated to your application. Therefore, the user experience will not be affected. Users will have access to a broad range of applications. The cross-chain interoperability on the network is important as it increase the collaboration of the network.
Native Gas Token
One of the recent advantages has been that it provides the option to users to use the native gas token. There are many customizable fee structures available. There are utility tokens that improve network participation. With the creation and management of utility tokens, it provides flexibility.
Consensus and Governance
The consensus of Polygon Supernets gives exceptional throughput, fast finality and minimal latency. The on-chain governance allows the participants to vote which leads to better transparency and accountability in the ecosystem.
Advantages of Polygon Supernets
Security
The Polygon supernets supports both economic and governance-based security. Now it allows the staking of MATIC. One can also use the appchain native tokens for validator rewards. Use the governance features to control chain access to the validators and smart contract deployers. Most of the features are available on the compliance and regulatory programs.
Better UX
The UX of the Polygon supernets is now more better. It has the relayer-type functionality, which allows the Polygon Supernets to pay the gas fee. Thus, this makes onboarding frictionless.
Interoperability
The native bridge to the Polygon PoS enhances interoperability. The interoperability further becomes better with the support of many third-party bridges; the bridging lets the network to customize plug-ins between different layers.     
Some of the Industries leveraging Polygon Supernets Efficiently
The Polygon platform will benefit both industries and users in terms of speed and transaction fees. These are some of the pioneers who are leveraging the Polygon Supernets efficiently:
Gaming
Many global gaming companies, including Robinhood and Square Enix, are part of the Polygon gaming ecosystem. In-game economics are becoming more prevalent nowadays. Gaming giants like Plai Labs and Nexon are planning to build appchains on Polygon Supernets. GameSwift, the best Web3-powered game, is migrated to Polygon Supernets.
DeFi Projects
The DeFi projects want more and more expansion. Many DeFi leaders, such as Ripio, Lemon, and Nu, are adopting Polygon Supernets. As there will be good native interoperability and more sync with Polygon and Ethereum ecosystems. DeFi comapnies, when launching with Polygon, the issue of network throughput diminishes.
Enterprises
Enterprises want to bring data on a decentralized network. Recently, the Acentrik and Gaia-x have decided to join the Polygon Supernets. A few days back, Singapore-based Bisonai partnered with Polygon. The reason for the partnership is to expand into the Web3 business. Enterprises opting for Supernets will notice an improvement in the speed of transactions and customization.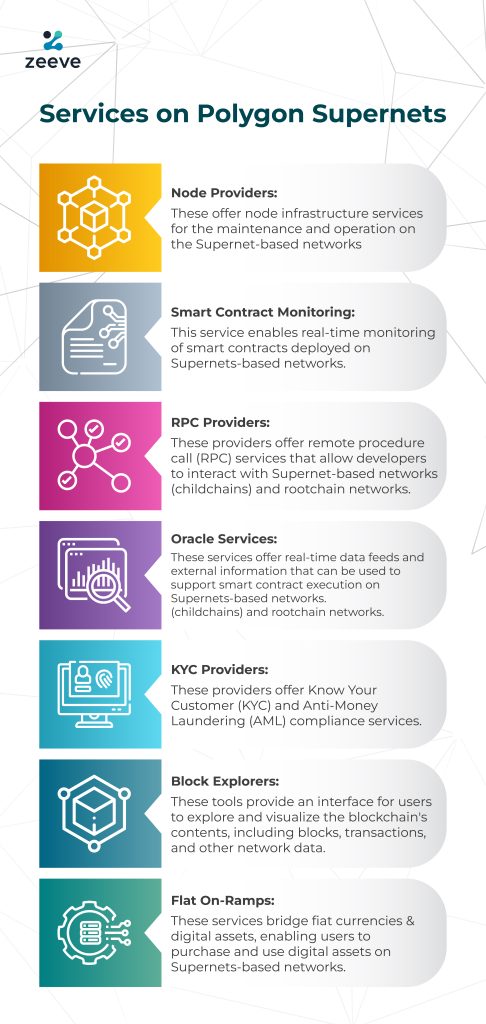 Solution Providers
There are industry-leading Web3 infrastructure providers collaborating with Polygon Supernets so as to make the implementation efficient. The solution providers will offer innovative, cutting-edge solutions to the developers and the team. This will accelerate the blockchain implementation process.
Implementation Partners
The implementation partners are there to work with projects to build the Supernets. There are 10 implementation partners who are making the work seamless are — Blockchain Studios, Cometh.io, MVP workshop, Ethrenal, ANKR, Stardust, AE Studio, Getaway.fm, Nethermind, and Settlemint. Now Zeeve has joined as an implementation partner to make the access to Polygon Supernets easier.
Now Zeeve is an Implementation Partner for Polygon Labs
Zeeve is the leading Institutional staking and Web3 infrastructure provider in the world. Zeeve provides web3 infrastructure which supports the enterprise-grade. At Zeeve we encompass staking infrastructure and full nodes for 40+ Blockchain protocols. The Polygon Supernets and Zeeve developers can take the deployment of enterprise-grade dApps to a new level.
Every professional in the field of blockchain infrastructure deployment will agree with Zeeve's Co-founders' thought that "Supernets give you the flexibility of permissioned blockchains along with the security and decentralization inherent in a public blockchain."
What Zeeve offers?
The Supernets are easy to deploy with the Terraform, which happens to be a one-click deployment. The Supernets are also good for cloud deployment as well. Zeeve's Bring Your Own Cloud (BYOC) allows enterprises to scale without worrying much about managing the complete infrastructure management.
You can launch your Polygon Supernets with Zeeve. We support all the major clouds on the Polygon Supernets. Enterprises looking for better ROI and TCO can partner with us. You can save as much as 97% of your time by working with Zeeve. Here are some of the valuables that we offer for Polygon Supernets:
Support for 8.x Infra
We provide support for migrating 6.x, which is the older version to 8.x which is the new Supernets version. There is real-time monitoring of the infrastructure. Thus, will enable you to access and interact on the network.
Smart Contracts and Validators Allow Listing
We provide support for Block Explorer for deployed networks using Polygon supernets. Also, there is Provide Indexer support for Polygon supernets. The Enhanced Monitoring system for Machines, Blockchain Networks, and smart contracts management makes smart contract monitoring agile.
Cross-chain Bridge Support
We provide support for the native cross-chain Bridge plugin for Polygon Supernets and compatible POS blockchain. Moreover, the RPC API endpoints connect with Supernets making the system secure.
Infrastructure Components Management
We provide flexible Autoscaling, Load Balancing, and Disaster Recovery of Nodes. Associated infrastructure components, including explorer, wallet and faucet.
Support Tokenomics
Since the transactions will be done in tokens it becomes crucial to manage them. We provide in-depth configuration support for tokenomics and asset management on Polygon Supernets.
One should know that not anyone can run their polygon nodes. As Polygon will have implementation partners only through which developers can deploy their nodes. The developers can tailor it to meet the specific use cases. Additionally, the developers can now create high-performance appchains on a low-cost and fast network.
Final Thoughts on Polygon Supernets
The Polygon Supernets is a complete solution for the appchain. The Supernets are instrumental to the scaling of Ethereum and allow customization. Enterprises optimistic about the Web3 and Blockchain space must give try to Polygon Supernets. If you are still not sure, Supernets can be used for the development of DeFi applications, gaming, supply chain management, identity management, tokenization of assets, e-commerce platforms, and much more.
There will be many use cases; with customizable architecture, developers can build scalable blockchain platforms for any enterprise or application. However, leveraging blockchain infrastructure isn't easy and requires expertise to build. A blockchain infrastructure management platform removes all the pain of deploying an infrastructure.
Partner With Zeeve
If you have an amazing idea regarding adopting blockchain but aren't sure how to proceed, partner with Zeeve. We offer support for all major blockchain protocols. We have a team of developers well-versed with the knowledge of Polygon Blockchain and Polygon SDK.
Zeeve's battle-tested infrastructure stack, coupled with its team of world-class blockchain experts and a proven track record of deploying over 6000+ nodes across 40+ protocols, positions them as a valuable contributor to the Web3 ecosystem.
We do informative spaces and share extensively about our work on Twitter. Join us on LinkedIn. Wish to discuss your project in detail, connect with us on Telegram. Contact us directly for more information about Zeeve.